It's a damn fine weekend for food. It's Memorial Day weekend, so there will plenty of grilling going down, but Saturday is National Wine Day. And don't forget, Tuesday is National Hamburger Day! That means you have a reason to celebrate every day over the (hopefully) long weekend.
You friendly neighborhood vinter probably won't stop by every house on the block hand-delivering free bottles of wine. (Though, if yours is, let us know so we can move to your neighborhood.) However, there are great deals on wine all over the place, whether you're going out to eat, ordering a case online, or just hopping over to the local liquor store for a bottle. 
These are the best deals you're going to find for National Wine Day. 
Recommended Video
Please Don't Hang Up: Miami
Wine Deals for National Wine Day
Giordano's
The deal: The pizza shop is offering half-off house wine all day. 
When: May 25
Carrabba's Italian Grill
The deal: With the purchase of an entrée, you can celebrate National Wine Day by grabbing an endless glass of blackberry, peach or red sangria for $12.99. 
When: May 24-27
Angels & Cowboys
The deal: The California-based winery is offering $25 off every $100 you spend in its online store. Unfortunately, this is only relevant news for people in states where the company ships. Those include AK, CA, CO, DC, FL, IL, MN, NV, NH, NY, OR, PA, TX, WA, and WY.
When: May 22-25
Winc
The deal: The wine subscription service is offering new customers $26 off their first order with the code "MEMORIALDAY19."
When: Through May 30
Masterclass
The deal: This is a little different. James Suckling offers a class through Masterclass that will help you understand and appreciate wine on a new level. In general, Masterclass classes aren't particularly cheap (though, that doesn't mean they aren't worthwhile). However, right now you can get an All Access pass to its classes for $180. 
When: Ongoing
Instacart
The deal: If you're in need of a little cheese for Wine Day, Instacart has a couple of offers available. Buy one Applegate Natural Cheese product and get the second for $1.50 off. There's a buck off your second Bel Brand cheese product. 
When: May 25
Grocery Stores
The deal: There are also tons of good deals at grocery stores. ALDI has a $7 wine collection that exceeds expectations based on the price. The same goes for Target's $10 The Collections and Whole Foods' Rosés.
When: Ongoing
Bahama Breeze
The deal: There's no wine, but the month-long Cinco de Mayo celebration can still get you a deal on alcohol. Get a $5 classic margarita or a $10 create-your-own premium tequila or rum flight. 
When: Through May 31
Islands
The deal: Ditto for this deal. Everyone is getting $2 off the House Rocks, Frozen, Strawberry, or Mangorita Margarita every day this month. 
When: Through May 31
Applebee's
The deal: Every day in May, Applebee's is offering $1 margaritas.
When: Through May 31
Uno Pizzeria & Grill
The deal: The pizza shop has extended its margarita promo. Grab a Sauza margarita for just $2 every day. 
When: Ongoing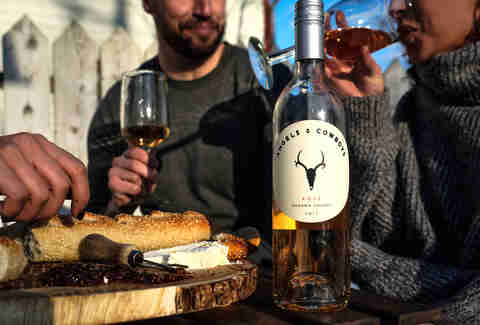 Local Wine Deals on National Wine Day
Circle House Coffee - Fort Lauderdale, Florida
The deal: The shop run by former NFLer Stephen Tulloch is offering $2 off beer and wine for National Wine Day. 
When: May 25
Village Burger Bar - Allen, Dallas, and Plano, Texas
The deal: Everyone (of age) is getting offered half off a bottle of wine. 
When: May 25
Food Deals Available on National Wine Day
Mountain Mike's Pizza
The deal: Take 15% off your Memorial Day Weekend pizza fix. Good on day-of orders and preorders when you use the code "095841."
When: May 23-27
Jersey Mike's
The deal: Buy two giant subs and the third one will only run you $2.99.
When: May 24-27
Tijuana Flats
The deal: Treat yourself to a $5 burrito or bowl all weekend. Upgrading to steak is just a buck.
When: May 24-26
Pilot Flying J
The deal: In honor of National Road Trip Day -- because not only does every foodstuff get its day, so does every activity -- you can take $5 off your next in-store purchase of at least $10 with the code "ROADTRIP" in the pit stop's app. 
When: May 24-27
Instacart
The deal: You can pick between free grocery delivery or a $5 coupon when you purchase at least $20 worth of Annie's products through Instacart. 
When: Through May 26
Cumberland Farms
The deal: Swoop into a Cumberland Farms retail location for a f'real smoothie or milkshake. They're just $1.99 throughout Memorial Day weekend. 
When: May 22-28
Ono Hawaiian BBQ
The deal: Buy $30 or more in gift cards to get a bonus card worth $10 for free. The bonus card will be valid June 18 through August 21. 
When: Through June 17
Subway
The deal: Every order of a Fresh Fit for Kids meal -- three-inch sub, fruit, and juice box -- will come with a voucher for a free ticket to see Aladdin in theaters. 
When: Through June 27
Firehouse Subs
The deal: When you order catering from Firehouse and get two deluxe platters, you'll get a free cookie platter for your troubles. 
When: Through June 16
Carl's Jr.
The deal: Sign up for the Carl's Jr. promo club, and you're going to get a free small order of fries and a small beverage with the purchase of a Western Bacon Cheeseburger. You're two-thirds of the way to lunch already. 
When: Ongoing
Arby's
The deal: Get your favorite sauces ready. When you sign up for the Arby's email newsletter, you'll get a coupon for a free roast beef sandwich.
When: Ongoing
Baskin-Robbins
The deal: When you download the Baskin-Robbins app for the first time, you get a free regular-sized scoop as an in-app offer.
When: Ongoing
More National Wine Day Deals?
Did we miss something? Drop a note to news@thrillist.com and we'll be sure to get it in here. 
Sign up here for our daily Thrillist email and subscribe here for our YouTube channel to get your fix of the best in food/drink/fun.