Dress As Your Biggest Fear & Natty Light Will Give You $10,000 to Defeat It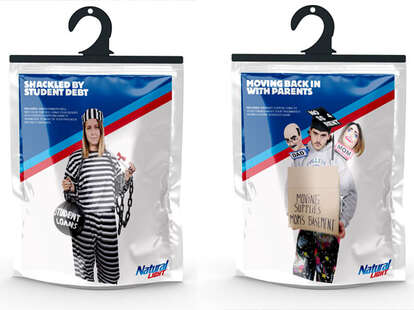 Courtesy of Natural Light - Edited
Chainsaw murderers and clowns might be some of the scariest costumes you've seen out trick-or-treating. But, if we're being honest, the most terrifying things in our lives are probably a little closer to student loan debt, climate change-induced disasters, and dinner with your extended family.
It's that realistic horror that's of interest to Natural Light. The beer company best associated with a hangover during Friday exams in college is looking to help some loyal Natty Light lovers overcome their fears. You dress up as a real fear, and Natty is going to give you up to $10,000 to conquer that fear. It's (almost) that simple.
The beer company offered a few examples to get you moving down the right path. For instance, if you're worried about going bald, "Natty could send you the cash you need to put a down payment on a sweet toupee." If you are scared of getting stuck in a shit job, use some money to get an edit on your resume.
"A lot of things can keep our consumers up at night, but demonic clowns and movie monsters aren't at the top of the list. It's real-life nightmares, like finding a job right after graduation and apartment security deposits, that are truly frightening," Daniel Blake, senior director of US Value Brands at Anheuser-Busch, said in a statement.
You can enter through either Twitter or Instagram by posting your costume with the hashtags #NattyScaries and #Contest. You'll also have to be following Natural Light. (That's the opposite of the unfollow Miller Lite campaign.) A panel of judges will rate your costume based on creativity, originality, and "relevance to the contest theme."
The winner, who will not be called the Big Cheese unless it's thematically appropriate, will win $10,000. Then 10 first prize winners will get $1,000. That ought to get you out of your parents' basement for a good week or two.
Sign up here for our daily Thrillist email and subscribe here for our YouTube channel to get your fix of the best in food/drink/fun.