Natural Light Is Giving Out $10 Million to Help You With Student Loan Debt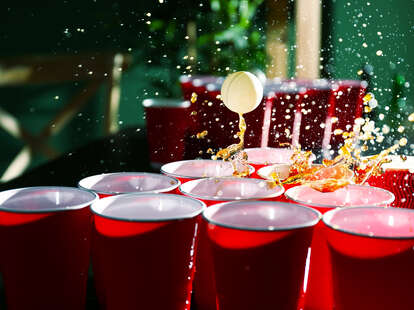 Shutterstock
Shutterstock
Sometimes it feels like there are only two guarantees given to college freshmen: an unconscionable amount of debt and a terrifying amount of cheap beer. It's a nice change, then, that these two are combining in a positive way: You can keep drinking cheap beer with the knowledge that it's actually reducing student debt.
That's because Natural Light is donating $10 million to the cause. In one sense, it's the least they could do considering the hangovers they've inflicted upon their clientele. In another sense, it's super cool of them to do this, and we salute them for it.
"Natty Light is committed to helping graduates remember college for the good times," a press release reads, "not the burden of debt that follows." (In our experience Natty doesn't help anyone remember any times, but that's neither here nor there.)
To be clear, the beer commonly referred to as Natty Light isn't going to send you a personal check for $10 million dollars. The company has pledged, through its College Debt Relief Program, to donate the $10,000,000 over the next 10 years. Last year, that meant splitting $1,000,000 between 25 people who made videos about why they decided to attend college.
This year, another $1,000,000 will be given out. Here's how to enter to win some of that: "Post a video to social media from now until May 18 with your inspiration for going to college; Include the green dollar-sign tab found on the limited-edition cans in your video; Use the hashtags #NattyStories and #Contest." It's basically the same as last year, except this year it'll be split between 70 people, so you'll have a better chance of winning.
"Last year, the College Debt Relief Program had a major impact on the Natty community, both financially and emotionally. But, student debt in America continues to rise, so we're coming back with an even stronger commitment that will make an impact well beyond 2019," Daniel Blake, Senior Director of Value Brands, Anheuser-Busch, said in the press release. "We're making a pledge to give back $10,000,000 over the next decade to help out even more deserving individuals and shine a brighter light on the issue of college debt."
Natty will also be giving out $53,000 more during the Super Bowl. To get some of that, all you have to do is post your Super Bowl plans on social media, along with the hashtags #NattySB and #sweeps and your Cash App user name. This will enter you to win the average student loan payment amount, $351, through the app. That could mean a month out from under your payments.
Alternatively, it could get you an unbelievable amount of Natty Light.
Sign up here for our daily Thrillist email and subscribe here for our YouTube channel to get your fix of the best in food/drink/fun.