Natty light Is Hiring a Virtual Intern & It'll Pay $40 an Hour
Your task? Dreaming up the brand's next big innovation.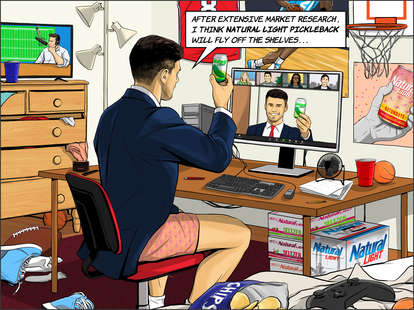 Courtesy of Natural Light
You might miss free office snacks and the water cooler gossip, but you have to admit working from home has its perks. The commute is considerably shorter (from the bed to your couch), pants are optional, and happy hour starts much earlier -- translate that as you see fit.
And while the vast majority of us will have to return to normal office life eventually, Natural Light (aka Natty Light) is hiring for an entirely remote internship position so you can spend your whole summer working from bed, your backyard, or wherever. The gig, which is open for applications through May 17, will require the chosen candidate to create the next great Natty Light flavor innovation. And you've got big shoes to fill. The last two interns brought us hard seltzer and Naturdays.
"We know how crucial internships are for our fans and how summer work experiences are the launching pad for their future success. We just couldn't let the current situation overshadow this important step in their careers," Vice President of US Value Brands at Anheuser-Busch, Daniel Blake said in a statement. "That's why we're forging ahead with the Natty Light Summer Internship and evolving it to tackle a big task: creating the next Natty flavor innovation."
The program will include other tasks as well, like ideating "fire viral content," designing swag, and productive research, which yes, means drinking for the job. There are plenty of requirements though. This is a job, after all. Qualifications include a familiarity with social media, outgoing personality, meme making skills, and the ability to "spell protractor" -- don't ask why, because I don't know.
The application process is two-fold. First, you'll have to fill out all your information on job site Indeed.com, but the latter half requires a bit more creativity. Natty light is asking fans to post a photo, sketch, doodle, or tweet of their flavor innovation using the hashtags #NattyIntern and #contest. Entries close May 17, 2020.
Sign up here for our daily Thrillist email and subscribe here for our YouTube channel to get your fix of the best in food/drink/fun.
Megan Schaltegger is a staff writer at Thrillist.