Navy Pilots Behind That Viral Sky Penis Feared the 'Balls Are Going to Be a Little Lopsided'
All artists occasionally agonize over their creative process, but rarely are we lucky enough to listen in on the process as a groundbreaking piece of work is being birthed into the world...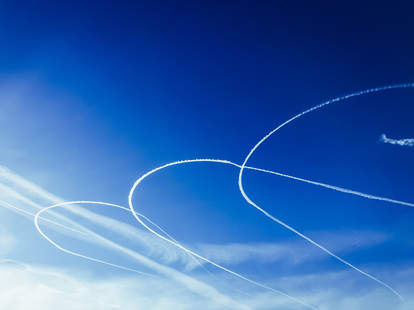 All artists occasionally agonize over their creative process, but rarely are we lucky enough to listen in on the process as a groundbreaking piece of work is being birthed into the world. But on Tuesday, we got a peek behind the curtain of the two hilariously creative Navy pilots responsible for drawing a giant penis in the sky a couple years ago, courtesy of newly unearthed cockpit recordings from that fateful afternoon.
Back in 2017, two Navy pilots noticed their jet's contrails were looking particularly big during a training flight over Washington and decided to delight themselves with a bit of aerial artwork. They ended up drawing a giant penis, which understandably caught the attention of folks on the ground. Eyewitness photos quickly went viral. And while the stunt prompted the Navy to issue a response that condemned the phallic drawing and insisted the folks responsible for it were being reprimanded, we've had no idea what was going through the pilots' heads while they were doing it. Until now.
Thanks to a Freedom of Information Act request made by the Navy Times, we now know more about the pilots and what they were saying to one another while drawing the big ol' dong overhead. Their identities are redacted in the documents, though they're revealed to be two lieutenants who were flying as "Zapper 21," and it appears that one -- identified as an electronic warfare officer (EWO) -- suggested the move to the other, per a conversation captured by a cockpit recording system. Here's a brief overview of the exchange, according to the Navy Times report.
EWO: "Draw a giant penis. That would be awesome."
Pilot: "What did you do on your flight, 'Oh, we turned dinosaurs into sky penises.'"
EWO: "You should totally try to draw a penis."
Pilot: "I could definitely draw one, that would be easy. I could basically draw a figure eight and turn around and come back. I'm gonna go down, grab some speed and hopefully get out of the contrail layer so they're not connected to each other.
Pilot (cont'd): "Dude, that would be so funny. Airliners coming back on their way into Seattle, just this big f*cking, giant penis. We could almost draw a vein in the middle of it too. Balls are going to be a little lopsided."
Pilot (cont'd): "Balls are complete. I just gotta navigate a little bit over here for the shaft."
EWO: "Which way is the shaft going?"
Pilot: "The shaft will go to the left."
EWO: "It's gonna be a wide shaft."
Pilot: "I don't wanna make it just like 3 balls."
EWO: "Oh, the head of that penis is going to be thick."
Pilot: "Some like Chinese weather satellite right now that's like, 'What the f*ck?'"
Pilot (cont'd): "To get out of this, I'm gonna go like down and to the right. And we'll come back up over the top and try to take a look at it."
EWO: "I have a feeling the balls will have dissipated by then.
Pilot: It's possible."
To the pilots' amazement, they did not dissipate.
"Oh yes, that was f*cking amazing," the pilot said. "This is so obvious."
Unfortunately, as impressive and hilarious as it was, the contrails stuck around in the sky for a little too long. The pair quickly realized that and tried to essentially scribble out the naughty aerial art. However, fuel was running low and they were forced to return to their base.
Back on the ground, the pair were quickly sought out by their furious superiors, and chewed out for what they did. Still, even though the Navy claimed they would be reprimanded, they apparently only received a slap on the wrist since neither had any previous disciplinary issues.
"They 100 percent need to be held accountable, but if they are allowed to continue in naval aviation this is not a mistake they will repeat," one of the commanding officers wrote in a subsequent report of the event, per the Times. "Minus the current circumstances, they have never given me a reason to doubt their trustworthiness or their resolve to be officers in the Navy... This was a really bad decision by some really good guys in a really good squadron."
But, hey, dealing with criticism is just another part of the artistic process.
h/t Gizmodo, Navy Times

Sign up here for our daily Thrillist email and subscribe here for our YouTube channel to get your fix of the best in food/drink/fun.