This Company Will Pay You to Travel the Country and Eat the NBA's Best Stadium Food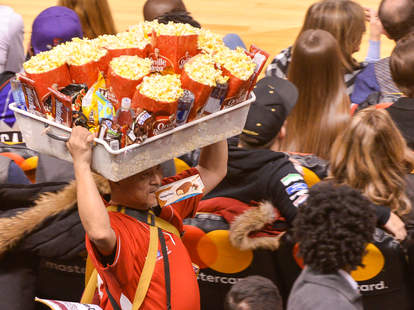 Anatoliy Cherkasov/NurPhoto via Getty Images
In August, betting website Pickwise launched its search for an "Official NFL Taste Tester." A job that is, by all accounts, the dream whether you're a genuine sports fan or one of those ~here for the food~ sports fans (no judgement ¯\_(ツ)_/¯). And while the original sweepstakes may have ended September 9, they're hiring again -- this time, for the NBA. 
Now let's dive in, k? Cool. The chosen food tester will travel the country, attend basketball games, and sample the league's best stadium fare. And while naturally, tickets and food expenses are covered, flights and hotel accommodations are on you. Sorry, but still a pretty sweet gig and that's only half of the appeal. The winner will also score $500. 
But because, technically, this is a job, you'll have responsibilities (read: slackers need not apply). According to the official announcement, you'll report back on your findings and provide content for Pickwise's social channels. 
"Sports and food go hand in hand, and here at Pickswise, we want to hire someone to finally help settle all of the debate and lock down the best food in the NBA," spokesperson Jake Apperley said in a statement. "The opportunity to become our Official NBA Taste Tester is not to be missed, the winner will become a member of the Pickswise team and have the best job any fan can wish for!"
There are a few stipulations though. You have to be least 21 years old, a US or Canadian resident, and most importantly, a Pickwise customer -- don't worry, it's super easy to sign up. If you've checked off those aforementioned conditions, then head over to twitter, follow @Pickwisesports, and respond to their tweet with a picture of yourself either a) at an NBA game, b) eating food, or c) all of the above. Don't forget to tag 'em and hashtag your post #NBAFoodTester. The competition closes Monday, October 14 at 5pm and the winner will be announced the following day.
Sign up here for our daily Thrillist email and subscribe here for our YouTube channel to get your fix of the best in food/drink/fun.
Megan Schaltegger is a staff writer at Thrillist. Follow her @MegSchaltegger.