How to Watch and Stream NCAA March Madness This Year
Christian Petersen/getty images
It's March, a predictably mad time in America.
Every year, the NCAA basketball tournament turns cubicle workers into expert "bracketologists," sees grown men paint their bodies free of social stigma, and generally provides a good reason to shout at large college kids on TV.
And why shouldn't it? March Madness is a time when basketball legends are born, when small schools with shoestring budgets slay giants, and when Dick Vitale beams into American living rooms like the country's official grandpa.
If you're not sure how to watch all the games, we're here to help. Here's a comprehensive guide to watching March Madness this year, complete with information on streams, game schedules, and more.
March Madness live stream
If you, like so many other wannabe cord-cutters, have access to a cable subscription without an actual TV, you're still in luck. The NCAA is streaming all games on March Madness Live, which you can watch on your desktop computer. The March Madness Live app works as a decent mobile option, too. 
If you've managed to corral an idiot box, the March Madness Live app is downloadable on Roku, Apple TV, Amazon Fire TV, and a plethora of other services. If you don't have cable, commandeering your cousin's ex-girlfriend's information is probably fine. 
How to watch March Madness games without cable
Some familiar options abound, here. Sling TV launched its own package for streaming the tournament, offering what it claims is the "the biggest conference tournaments and NCAA tournament games -- plus the semi-finals and championship game." Sony Playstation Vue also lets users sign into March Madness Live via mobile or desktop. 
Additionally, the Associated Press reports that CBS' broadcast of 21 games will be available on a variety of platforms, such as Apple TV and Amazon Fire. To access that, you'll need to purchase a $6-per-month subscription to CBS All Access if you don't already have cable.  
How to watch March Madness games on TV
Here's the easiest part of the drill: The tournament is being broadcast on CBS and all Turner Broadcasting affiliates (TBS, TNT, or TruTV).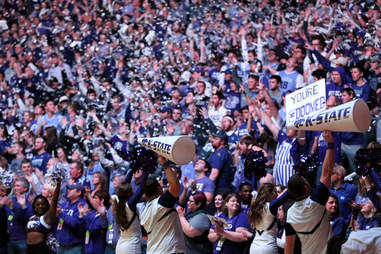 Icon Sportswire/getty images
When does March Madness start?
After some play-in rounds earlier in the week, the first round of the 67-game NCAA tournament begins on Thursday, March 15, and ends on Friday, March 16. Then the field is narrowed to 32 teams, and the second round begins on Saturday, March 17, ending the next day, Sunday, March 18. 
The "Sweet 16"
The plot starts thickening up here, when the final 16 teams in the country do battle, starting on Thursday, March 22, and ending on Friday, the 23rd. 
The "Elite 8"
The "great 8," or "elite 8," or "outstanding octagon" (no one says that) square off on Saturday, March 24, with the last games tipping off on Sunday, the 25th. 
The Final Four 
The national semi-final is on Saturday, March 31. 
National Championship
Hopefully, any team other than Duke wins the championship game on Monday, April 2.
Sign up here for our daily Thrillist email and subscribe here for our YouTube channel to get your fix of the best in food/drink/fun.
 
Sam Blum will be rooting for UCLA, despite all the reasons to not hold his breath. Follow him @Blumnessmonster.