Hilariously Petty Homeowner Roasts Neighbor With Insult Visible On Google Maps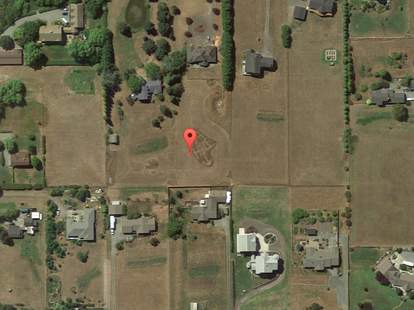 It's totally normal to be irked by your neighbors every once and a while, but thankfully most tensions over noise complaints and unkempt yards smooth themselves out over time. Sometimes, though, your distaste for the folks next door escalates to a point where you just can't help but broadcast your displeasure with an epic grand gesture, like mowing "A-hole" in your grass next to an arrow pointing to their house.
That was the course of action taken by one particularly pissed off homeowner in Washington, whose message was large enough to be picked up by the Google Earth satellites, and immortalized on the good ol' Internet.
The mowed message was first spotted on Google Maps by some eagle-eyed Reddit users, who quickly linked it to a fairly well-known feud between neighbors in Sequim, Washington. As the backstory goes, the property the A-hole and arrow points to is the reason for the spat. Apparently, back in 2009, the owner decided to build a three-car garage and apartment there, and painted it some garish bright purple color. In response, a dozen or so surrounding neighbors petitioned the county for property tax relief, claiming the building devalued their homes. Then, presumably at some point between 2011 and 2013, one of those angry neighbors hatched a slightly more petty plan, wheeled out their riding lawnmower to an overgrown plot of land, and went to town.
It's unclear if or how the hostility has been resolved since, but one thing's clear: never underestimate the power of an angry man with a penchant for creative landscaping.
h/t Select All
Sign up here for our daily Thrillist email and subscribe here for our YouTube channel to get your fix of the best in food/drink/fun.