This New Nerf Gun Fires Foam Balls at 70mph, and It Looks Cool as Hell in Action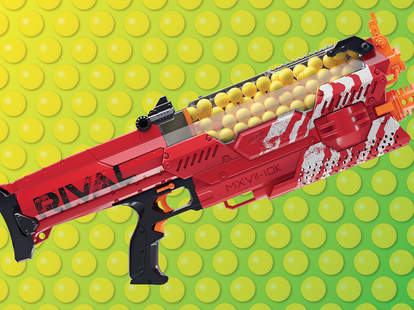 Maggie Rossetti/Thrillist

There's just so much stimuli out there today, even Nerf guns have to do crazy things to keep people entertained. The Nemesis MXVII-1oK is one great example, as it boasts a massive barrel capable of storing 100 darts. It also shoots these darts at 70mph, in case you're interested in punishing your friends.
If you're privy to Nerf-speak, the Rival Nemesis MXVII-1oK shoots its foam balls out of a horizontal flywheel system, and is powered by six D-size batteries -- or a Nerf battery pack, depending upon your preference. Perhaps best of all, though, is this blaster's reloading capabilities. With this revamped model, you can pour all 100 balls into the hopper at once, instead of reloading them one-by-one. This makes the possibilities for rapid-firing even better. Observe:
This bad boy is hitting the market in the fall for $100 -- which is a fair price if you're seriously trying to be a Nerf warrior, or settling a score with your neighbor.
For more info, check out the in-depth review of the product below, which will be sure to satisfy even the most pedantic Nerf-heads out there.
Sign up here for our daily Thrillist email, and get your fix of the best in food/drink/fun.
Sam Blum is a News Staff Writer for Thrillist. He's also a martial arts and music nerd who appreciates a fine sandwich and cute dogs. Find his clips in The Guardian, Rolling Stone, The A.V. Club and Vice. He's on Twitter @Blumnessmonster.