Whoa: Amazon Is Selling the NES Classic Edition in 14 Cities Right Now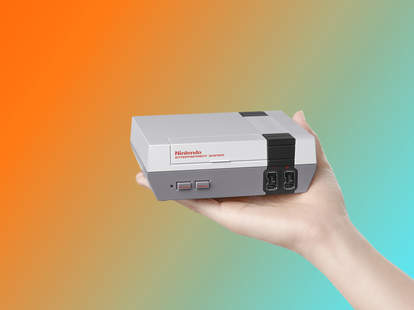 Although the NES Classic Edition is sadly out of stock at most retailers in the final days before the holidays, Amazon is again offering the highly sought-after gaming machine via surprise local flash sales on Wednesday morning. This time, in 11 cities across parts of the East Coast and the Midwest.
The online retail giant announced that Amazon Prime Now members located in Miami, Tampa, Orlando, Atlanta, Baltimore, Virginia Beach, Washington D.C., Richmond, Cincinnati, Columbus, Indianapolis, Nashville, Chicago, and Minneapolis can order the NES Classic Edition with free two-hour delivery while supplies last on Wednesday. Unfortunately, it's unclear how many of the devices are available as part of the sales, but it's likely not many. In other words, you should probably stop reading this and get on that ASAP.
So far, those are the only cities Amazon has announced for the day, but considering how the company has launched similar flash sales almost every day for the last week, there's likely -- hopefully -- more to come. In addition to Amazon, it looks like you can also try your luck at GameStop, which said it's currently receiving "VERY limited numbers" of the devices. Best Buy offered a similar NES Classic Edition sales event at its stores on Tuesday, and other big retailers like Urban Outfitters and Walmart have unleashed their stock in recent weeks as well.
The $60 nostalgia-inducing game system comes preprogrammed with 30 classic Nintendo games and has been damn near impossible to buy since it launched last month, although third-party resellers are offering them at triple the price or more if you're that desperate. If not, Nintendo has promised more stock will become available after the holidays. Either way, you'll be squashing Goombas on Super Mario Bros. in no time.
Sign up here for our daily Thrillist email, and get your fix of the best in food/drink/fun.
Tony Merevick is Cities News Editor at Thrillist and sure hopes people manage to get their hands on one of these things today. Send news tips to news@thrillist.com and follow him on Twitter @tonymerevick.