Amazon Is Selling the NES Classic Edition Right Now in Six Cities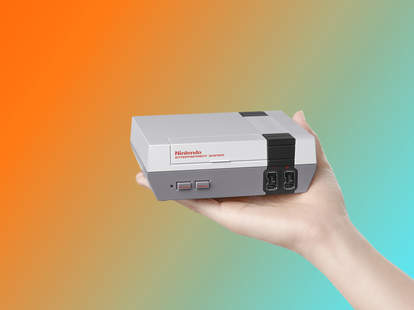 After selling the highly sought-after NES Classic Edition through a series of localized flash sales last week, Amazon is back on Monday with yet another chance to buy the nostalgia-inducing gaming system before Christmas. This time, in just six cities across the West Coast. 
The company announced that Amazon Prime Now members in Los Angeles, San Diego, San Francisco, Sacramento, Las Vegas, and Phoenix can order the NES Classic Edition with free two-hour delivery while supplies last on Monday. It's unclear how many of the gaming systems Amazon is making available as part of the sale, but it's likely not many. So, uh, you might want to get on that ASAP.
Yes, it looks like the devices are only available in those six cities for now, although there's a good chance that Amazon has plans to release even more stock of the devices in the coming days. Other than that, it looks like your best shots at finally buying one of the damn things is by lining up at Best Buy on Tuesday, December 20th or hitting up your local GameStop early this week. There's a chance that other retails are planning to release whatever stock of the gaming system they have left, too, like Urban Outfitters and Walmart did in recent weeks. 
The $60 gaming system, which comes preprogrammed with 30 classic Nintendo games, has been sold out across the board since it first launched on November 11th, although you can pay trip or more to get one right now from third-party resellers if you're that desperate. If not, just hold off until the new year, when Nintendo will likely have way more stock available. At least you'll have Super Mario Run on your iPhone to get your through the holidays.
Sign up here for our daily Thrillist email, and get your fix of the best in food/drink/fun.
Tony Merevick is Cities News Editor at Thrillist and finally got his hands on an NES Classic Edition last week. Send news tips to news@thrillist.com and follow him on Twitter @tonymerevick.