The NES Classic Returns to Stores on Friday. Here's Where You Can Get It.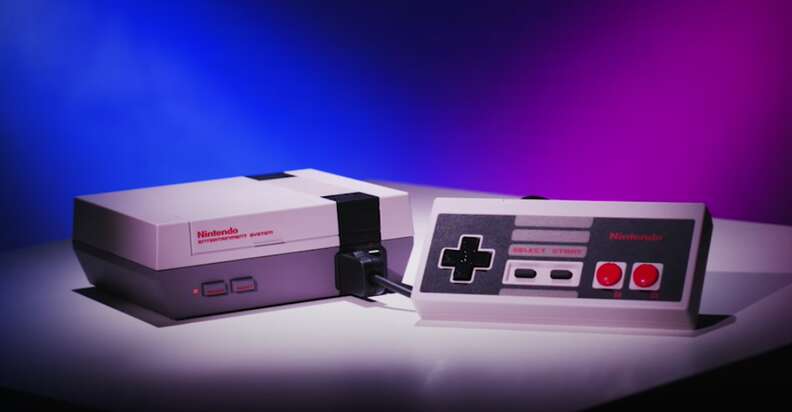 It's been a long wait for any Mario-loving individual who missed out the first time, but the wait is, at least theoretically, over. Nintendo is re-releasing the wildly popular NES Classic Edition on June 29.
The all-in-one retro console that comes pre-loaded with 30 games was in high demand when it was first released in November 2016. It's exciting for anyone who has fond memories of the 1985 console, but it's possible there could be a repeat of the scarcity of the initial release. It was incredibly difficult to land one. People were so desperate to get a console last time they were paying more than double the retail price on eBay.
Asked if they expect to sell out, a representative from ThinkGeek.com told Thrillist, "We do know it will be similar to last time. So, people will have to act fast." A rep also told GameSpot that some stores may have as few as 10 units.
Where can you get an NES Classic?
You will be able to pick up the system at GameStop locations for the standard $59.99 retail price, though supply is limited. The store will also reserve some consoles for sale through its website beginning Friday morning.
Additionally, you'll be able to order the NES Classic online from ThinkGeek.com -- a GameStop subsidiary -- starting at 9am ET on Friday. It will only sell one NES Classic per customer. The retailer previously sold the console as part of a package where you had to buy a second item from the store. That policy is no longer in place.
Best Buyconfirmed it will also carry units in-store and reserve some for sale online. Like the other stores, it will open sales on June 29. At brick-and-mortar locations, Best Buy will use the ticketing system it uses on Black Friday to manage lines. All sales will be limited to one per person.
Over at Walmart, you'll be able to head to stores starting at 12:01am local time, according to a spokesperson. If you don't want to go to the store in the middle of the night, you can also order it online beginning at 10am PST. The representative did not discuss how many units are expected to be available when the NES Classic goes on sale.
Target will also carry the NES Classic. A spokesperson tells Thrillist that the console will only be available in store. "We anticipate demand for the item will be high," the spokesperson said, "and we will be replenishing inventory through the fall."
Other stores that initially carried the NES Classic when it was first released have not responded to inquiries about whether or not it will be stocked on June 29. However, it's likely you'll be able to track down the system from other large retailers like Amazon.
Hopefully, it will be easier to get ahold of this go-round. You don't want to be sitting around all weekend with no NES Classic hoping that the Gameboy Classic or Nintendo 64 Classic will suddenly get announced.
Sign up here for our daily Thrillist email and subscribe here for our YouTube channel to get your fix of the best in food/drink/fun.

Dustin Nelson is a News Writer with Thrillist. He holds a Guinness World Record but has never met the fingernail lady. Follow him @dlukenelson.