Apple Is Launching Offline Maps Starting This Fall
Plus, iOS 17 will feature a new way to log your trips in a travel journal!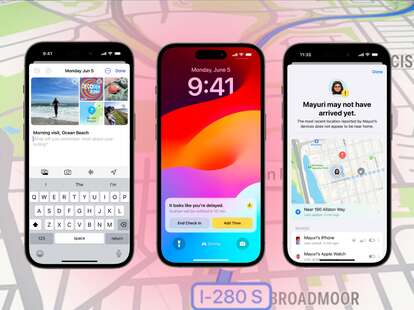 Courtesy of Apple, Edited by Opheli Garcia Lawler
Courtesy of Apple, Edited by Opheli Garcia Lawler
For WWDC23, Apple unveiled a slew of new features coming with iOS 17, which is slated to be launched to the public this fall. The updates include a lot more options to personalize your contacts, phone screen, and more, so that every part of the device that is glued to your person for most of your waking hours can feel more…you.
"With iOS 17, we've made iPhone more personal and intuitive by deeply considering the features we all rely on every day," said Craig Federighi, Apple's senior vice president of software engineering, in a statement.
And it's not just becoming more personal for iMessage and FaceTime. Updates are coming for just about every feature. The most exciting feature as a frequent traveler is definitely the offline maps feature. You'll be able to download maps of specific areas on your phone, allowing you to access the information even when you are totally off the grid. The offline map will still offer turn-by-turn navigation, estimated time of arrival, and find places.
This is huge for hikers, international travelers, and people who live in areas with pretty terrible cell coverage. Knowing I'll have a map of my city on my phone, no matter what kind of service I have, will definitely make me feel safer.
That's not the only cool travel-centric feature coming to iPhones.
The new iOS 17 will also have a new app called Journal. It will allow users to journal, whether that's gratitude journaling or logging all the details of your latest adventures. As someone who currently uses the pinned locations feature in Maps, the idea of being able to add photos, people, places, and other information about an experience is super exciting. The app will also feature end-to-end encryption and machine learning.