New Belgium Brewing Is Being Sold to an International Beverage Giant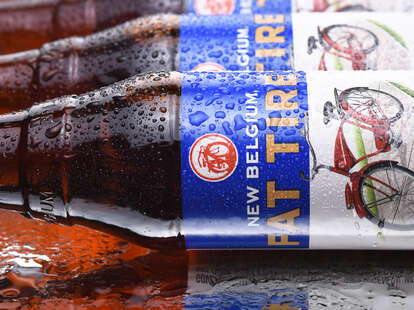 In craft beer, 2019 may be remembered as a year of flux. Or maybe it's an entry point to even more shake-ups in 2020. Either way, craft brewers have combined powers like the Planeteers hoping to summon Captain Planet while big beer has guzzled up even more small brewers. Dogfish Head joined forces with Boston Beer, makers of Samuel Adams. Anheuser-Busch InBev began buying craft breweries again for the first time since 2017, including the recently announced acquisition of the Craft Brew Alliance.
On November 19, New Belgium Brewing, Colorado's largest brewery, joined the ranks of breweries changing hands. It announced it has reached "a definitive agreement" with Lion Little World Beverages out of Australia, itself a subsidiary of the Japanese beverage giant Kirin. Pending approval from regulators and employee-owners -- New Belgium has been 100% employee-owned since January 2013 -- it will become part of Lion's holdings and no longer be employee-owned.
New Belgium will also acquire the portion of San Francisco's Magnolia Brewing it didn't already own, and that brewery will be part of the deal.
The reaction has been mixed in the beer world. New Belgium will no longer be considered a craft brewery by the Brewers Association definition, a BA representative confirmed to Thrillist. Many are lamenting another major craft brewery moving into the hands of a large international company. Others have voiced support for New Belgium and co-founder Kim Jordan, who built New Belgium into a revered brewery with staples like Fat Tire and La Folie since opening in 1991.
For Lion, they get a significant toehold in the US. Its only US brewery is Australia's Little Creatures brewery and restaurant in San Francisco launched early in 2019. Kirin Holdings also owns a 24.5% stake in Brooklyn Brewery, which itself has a stake in both 21st Amendment Brewing and Funkwerks, as noted by Brewbound, which broke the news of New Belgium's sale.
Jordan wrote in a letter that Lion understands the brewery hopes to remain "a force for good." She added, "Lion announced last week that they've made a pledge to be carbon neutral in their Australian and New Zealand breweries starting in 2020. That's exciting! And now we will be accelerating our own journey toward Carbon Neutrality." The company will remain headquartered in Fort Collins, Colorado after the deal closes before the end of the year.
Sign up here for our daily Thrillist email and subscribe here for our YouTube channel to get your fix of the best in food/drink/fun.