Editor's Note:
We know COVID-19 is continuing to impact your travel plans. Should you travel now, be sure to familiarize yourself with the CDC's latest guidance on
domestic
and
international
travel as well as local requirements, protocols, and restrictions for both your destination upon your arrival and your home city upon your return. Be safe out there.
Disney Cruise Lines is adding a sixth ship to its fleet, which was announced at the D23 Expo on Sunday. The newest ship will be named Treasure, and the boat will be filled with Disney Characters on the hunt for an adventure. In fact, adventure is the overarching theme of the entire ship.
"At the heart of every adventure, there's a treasure, and we can't wait for you to create memories aboard this spectacular ship," Disney Parks Experiences and Products Chairman Josh D'Amaro said in a press release.
The design of the Grand Hall on the ship is inspired by Aladdin, and the atrium character statue is of Aladdin, Jasmine, and Magic Carpet. The ship will be ready in 2024, according to Disney. It will set sail after Disney Wish, which is scheduled to take to the seas in July 2023.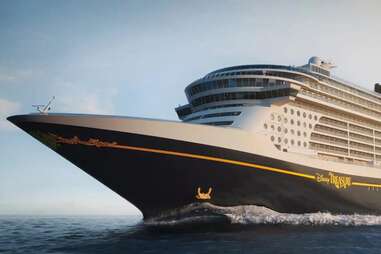 In addition to Disney Treasure, the Cruise Line is adding a second destination in the Bahamas on the island of Eleuthera. At Lighthouse Point, the new destination will represent the culture and natural beauty of the Bahamas. There will be beaches, recreation centers, dining, a cultural center, and shopping. Most exciting, Disney has pledged to only develop 20% of the property and donate 190 acres of land back to the Bahamian government.
Finally, the last big piece of Disney Cruise Line news from D23 is most exciting for those living in Australia and New Zealand. Disney Magic at Sea Cruises will begin in October 2023 through February 2024 and will be voyages themed for Disney, Pixar, Marvel, and Star Wars stories. The cruises will launch for ports in Sydney, Melbourne, and Brisbane, Australia and Auckland, New Zealand.
Find more details on upcoming cruises by visiting the Disney Cruise Line website.