Peep These Fudge and Caramel-Filled Peeps That Will Make Your Dentist Hate You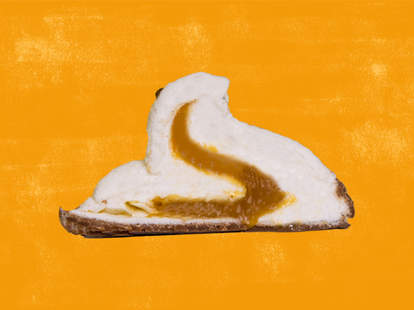 Peeps were already a divisive candy before anyone started the discussion of putting Peeps on pizza. (That's officially gross. No debate required.) But maybe, this spring, everyone will be able to set aside their differences and enjoy a Peep together.
Everyone is going to learn to get along because holy chick, there are fudge and caramel-filled Peeps coming. A fudge-filled version called the Triple Chocolate is a chocolate-flavored chick, dipped in chocolate and filled with fudge.
If you don't like your chocolate-filled chocolate dipped in chocolate, the Vanilla Caramel Brownie is another twist on the marshmallow baby bird kids love to hate. This one is a vanilla Peep, filled with caramel and dipped in chocolate.
While those gooey yellow ones are the Peeps you're most familiar with, the company toys with different flavors regularly. New flavors for the Easter rush include a horrifying sour cherry Peep dipped in lime-flavored chocolate. Other Peeps playing Abomination to the fudge-filled Peeps' Captain America include sour lemon lime twist and cotton candy. Like those Peeps-flavored Oreos, there's a possibility your business might turn into a stinky funfetti after a taste-testing of this cornucopia of marshmallow.
If you need to fill your belly with Peeps, you'll only find the filled versions at Target. They're exclusive.
Sign up here for our daily Thrillist email, and get your fix of the best in food/drink/fun.
Dustin Nelson is a News Writer with Thrillist. He holds a Guinness World Record but has never met the fingernail lady. Follow him @dlukenelson.