These Ultra-Spooky Ghost Tours Just Launched in 12 New U.S. Cities
Mix up your weekend plans with a trip to the haunted history of your town.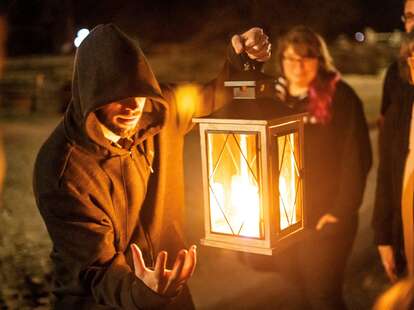 Courtesy of US Ghost Adventures
Courtesy of US Ghost Adventures
Spend 15 minutes reading up on the history of literally any city in the US, and you can reasonably conclude that the place is at least marginally haunted. Too much has happened for there to be zero ghosts. Depending on your beliefs, ghosts might be more of a sci-fi topic than a spiritual one, but if you've got any curiosity at all about what lies beyond the veil, an interest in the paranormal is not too surprising.
Personally, my thoughts about ghosts most closely resemble Mike Flanagan's approach in his Netflix Flanaverse — ghosts are everywhere and they've all got a lot of stories to tell. No matter what form your interest in the supernatural takes, one of the hallmark experiences are ghost tours. At its core, a ghost tour is a walking tour of a city. There's some history, there's some showmanship, and it usually ends near an ice cream shop.
US Ghost Adventures, one of the more popular travel companies, just announced it is launching 12 new tour locations in the US this year, in addition to its existing 50 locations.
"We're continuing our commitment to innovating and expanding US Ghost Adventures locations for more people to enjoy our ghost tours," said Lance Zaal, president and founder of US Ghost Adventures, in a statement. "Because we invested when the world was experiencing shutdowns during the Covid pandemic, we have more cities, virtual offerings, and a product line to offer guests. We're thrilled to open 12 new locations and give travel enthusiasts more opportunities to experience engaging tours in more cities."
The following cities will now have ghost tours run by US Ghost Adventures:
Annapolis, Maryland
El Paso, Texas
Flagstaff, Arizona
Ft Worth, Texas
Houston, Texas
Jacksonville, Florida
Milwaukee, Wisconsin
Monterey, California
New Port, Rhode Island
Providence, Rhode Island
Sacramento, California
Salt Lake City, Utah

If you're interested in making your life a little bit spookier (and have a few new stories to share at your next dinner party) you can check out all of the tours US Ghost Adventures has to offer on its website.