One moment you're safely ensconced in a snowy Hogsmeade with a belly full of butterbeer. The next, you're getting an intense Care of Magical Creatures lesson with everyone's favorite gamekeeper.
That's the gist of the newest ride at the Wizarding World of Harry Potter inside Universal Studios Orlando. The new ride, Hagrid's Magical Creatures Motorbike Adventure, is quite easily one of the most unique and ambitious experiences the park has to offer, and it's set to open on Thursday, June 13, at Universal's Islands of Adventure.
Recommended Video
Please Don't Hang Up: Miami
From the moment you decide to go on the roller coaster, the ride is shrouded in mystery. Most outdoor coasters give you some sense of what you're in for, but that's not the case on the Motorbike Adventure. From Hogsmeade, broken pumpkins, wooden crates, and rusty garden tools litter the entrance, obscuring any view of the ride.
The winding queue takes you past Hagrid's Hut, a Magical Creatures workshop, and a hallway of eggs on display. The last one is an apt metaphor for the whole ride. Like everything at the Wizarding World, this ride is loaded with more Easter eggs than you'll catch during a single ride. 
The actual ride has you hop aboard Hagrid's motorcycle. You're either atop the bike or in his sidecar. You may want to ride it twice because the experience is different based on where you choose to sit. It's also a totally different ride at night. By the way, ride it at night! I have little desire to spoil every detail of the ride because you just don't know what's coming before you're buckled in.
The coaster quickly winds its way through a forest of more than 1,100 real trees. It's fast, but it's also long. At nearly a full mile in length, it's the longest coaster in the park. It will rocket you forward at 50mph, sling you backward, and drop you. Literally. It features the first free fall on a coaster in the United States.
The biggest attractions at the Wizarding World of Harry Potter theme parks in Orlando -- there are Wizarding Worlds at two of Universal's three parks -- are a couple of dark rides. This is a step in an entirely different direction for the Wizarding World. It's immersive, with appearances from Robbie Coltrane as Hagrid, Arthur Weasley's flying car, Fluffy, Devil's Snare, and the first appearance of blast-ended skrewts. It's clearly not just about making a unique ride. It's paying a lot of satisfying service to fans of the movies and books.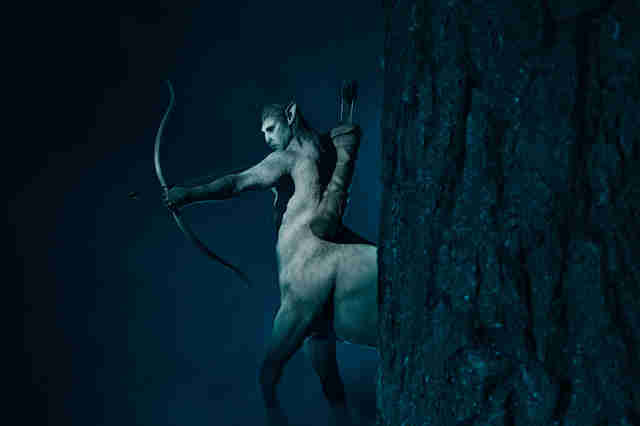 The biggest change Hagrid's Magical Creatures Motorbike Adventure brings to Universal Orlando is making it the obvious destination between Hollywood and Orlando locations for Potter lovers.
Moreover, to see all of the Harry Potter attractions in Florida, you need to purchase a pass for two separate parks. Previously, the allure was evenly split between the two. Diagon Alley is breathtaking at Universal Studios, but the only ride there is Escape From Gringotts, the better of the Wizarding World's two dark rides. Over at Islands of Adventure, you get light shows on the Hogwarts castle, the Hippogriff coaster (more for younger children), and The Forbidden Journey dark ride. With the addition of this new ride, Islands of Adventure has the clear upper hand if you're only going to fork over the cash for a single park. Though, that doesn't take away from how immersive and incredible Diagon Alley is or that you can only ride the Hogwarts Express between the two parks if you have a two-park pass.
There's a lot to see at both parks, but there's only one Hagrid. 
Sign up here for our daily Thrillist email and subscribe here for our YouTube channel to get your fix of the best in food/drink/fun.