Here's Why You Shouldn't Wait Until Tuesday to Buy Cheaper Plane Tickets
If you consider yourself an airfare sleuth, then you've probably heard at some point or another that Tuesdays are the best days to buy your plane tickets, because that's when airlines drop their prices. It's one of those adages that pops up in travel hack articles across the Internet (including even on this fair website). However, according to new research collected by the fare-predicting app Hopper, that's no longer true, thanks to the airline industry's increasing reliance on highly automated and unpredictable pricing algorithms.
In an interview with Bloomberg, Hopper's chief data scientist Patrick Surry suggests that the airline industry's move to computer automated pricing (to better match competitors in real-time) has essentially nullified the notion that any day of the week is the absolute best time to book, as was once the case when prices were manually adjusted by individual carriers to meet their targets or goals. And he should know, since Hopper's proprietary airfare search tech factors in hundreds of billions of data points, making it uniquely suited to track and monitor trends (or the lack thereof). "In the past, there used to be more human intervention where managers could create flash sales, often on Tuesdays and Wednesdays," says Surry. "These decisions are largely automated now."
However, while it may be tougher to rely on any hard and fast "best day of the week" rules, Surry's team did discover some trends and patterns to keep in mind next time you go to book a flight. For instance, Thursdays tend to be the best days to book both domestic and international flights, with an average savings of $10 and $25, respectively. Alternately, the worst days to buy domestic and international tickets are Saturdays and Sundays, respectively. In terms of the best time of day to buy from a full-day perspective, you'll likely find the best prices on domestic flights Tuesday nights at midnight (they haven't yet run a similar study for international flights).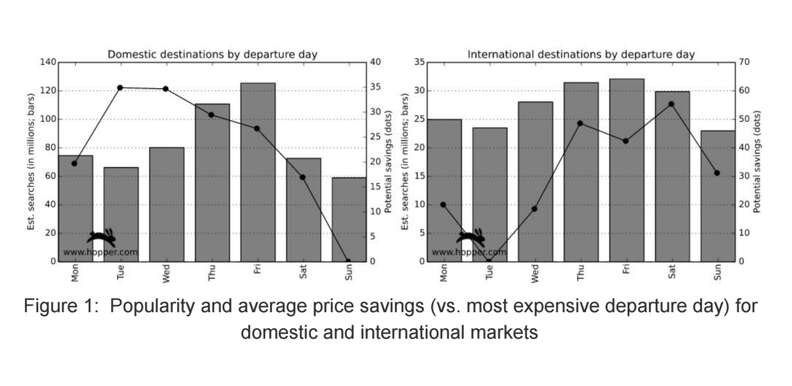 The research also hinted at the cheapest days to depart and return. For domestic flights, the cheapest day to fly out is Wednesday, and the cheapest returns are on Tuesday. For international flights, the cheapest departure day and return day is Wednesday. Of course, as Hopper specified in a statement to Thrillist, these takeaways are by no means to be taken as gospel, since pricing systems are adapting in real time and could change at any moment, or may apply only to tickets purchased for certain routes and departure markets. That said, you now have reason to believe waiting around until Tuesday to get a deal on vacation flights may not actually be worth it after all.
h/t Bloomberg
Sign up here for our daily Thrillist email and subscribe here for our YouTube channel to get your fix of the best in food/drink/fun.