Apple Says the New iPhone 11 and iPhone 11 Pro Have Insane Battery Life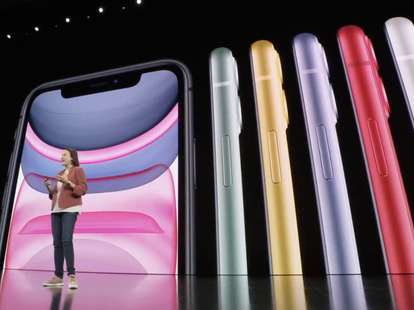 There's truly nothing like an eruption of ecstatic applause at the annual Apple Special Event. An exuberant company exec announces to the audience that the latest iPhones will have improved battery life, and the crowd sounds so audibly thrilled that it inspires the online viewer's imagination: An audience member in the front row pumping his fist in high school football coach fashion, smiling children holding each other while jumping arhythmically, an elderly woman nodding slowly from her wheelchair, content now in her last days.
All jokes aside, Apple's promise of better iPhone battery life at its big product unveiling event on Tuesday is a cause for celebration, especially since many of us are anxiously anticipating our approaching upgrade as our cracked iPhone 7s disintegrate before our very eyes.
Let's start with battery improvements in the most affordable release: the iPhone 11. This 6.1in-phone will have one more hour of battery than last year's iPhone XR, which had 90 more minutes of battery life per day than the iPhone 8 Plus, which had -- well, you get it. It's better and it starts at $699.
The iPhone 11 Pro, the second release announced today, has four more hours of battery life than last year's iPhone XS. I'm not going to do the whole chain thing again, but you can refer to this article for the difference between the iPhone XS Max and the iPhone XR. The iPhone 11 Pro sports a 5.8in display and starts at $999.
And, last but best, the iPhone 11 Pro Max has five more hours of battery life than last year's iPhone XS Max. This giant, 6.5in-phone is Apple's biggest, priciest, and most advanced, so it should come with a big battery life boost. Apple also announced that both iPhone 11 Pro models include a fast-charging 18-watt power adapter in the box. Life has never been so good.
If you're curious about how exactly the company is managing these incredible feats, it all comes down to the CPU, or central processing unit, of the phone. Today Apple introduced its newest CPU, the A13 Bionic.
"The A13 Bionic is the fastest CPU ever in a smartphone," Apple said onstage. Then, after subtly tarnishing the reputation of their competition, execs explained the efficiency of the A13 is what gives the new iPhones longer battery life.
In conclusion, it's all good vibes at the Steve Jobs Theater today. Along with the battery news, Apple announced Apple Watch improvements, lots of new camera features, and the highly-anticipated new iPhone colors. All three iPhone models are available for pre-order starting on Friday, September 13, and hit stores the following Friday, September 20.
Just picture a nearly divorced couple sitting in the audience with their event lanyards, leaning closer to each other as the news drops. The man puts a hesitant hand out on his lap and then reaches over to hold his wife's. They both relax. All's right with love and the world at large again.
Sign up here for our daily Thrillist email and subscribe here for our YouTube channel to get your fix of the best in food/drink/fun.
Ruby Anderson can't afford any of this. She does this for you because she loves you.