Apple's New iPhones Come in 3 Big Sizes. Here's What Your Hand Can Expect.
Now that Apple has finally unveiled its lineup of new iPhones for 2019, it's more than easy to be distracted by all of the new handsets' flashy new specs and features -- better battery life, next-level cameras, new colors -- and maybe lose sight of a decidedly basic, but important one: the size of the phones. The company stretched the world's thumbs a little further with last year's iPhone XS Max, so what kind of hand acrobatics can you expect this year? Here's a quick breakdown.
Apple officially introduced three distinct new iPhone models -- the iPhone 11, iPhone 11 Pro, and iPhone 11 Pro Max -- on Tuesday at its Cupertino, California HQ's Steve Jobs Theater. All three phones sport big displays that would be practically bezel-less if not for the "notch" that houses components for the front-facing camera and Face ID facial scanner at the top of the phone. In other words, if you already struggle to hold bigger phones, well, you're just going to have to get used to it when the new lineup of iPhones hit stores on September 20.
Here's what we know about the new iPhones' screen sizes and dimensions so far (we'll be updating this story as Apple makes the announcements, so refresh and check back):
iPhone 11 Size
Display: 6.1 inches
Height: 5.94 inches
Width: 2.98 inches
Thickness: 0.33 inches
iPhone 11 Pro Size
Display: 5.8 inches
Height: 5.67 inches
Width: 2.81 inches
Thickness: 0.32 inches
iPhone 11 Pro Max Size
Display: 6.5 inches
Height: 6.22 inches
Width: 3.06 inches
Thickness: 0.32 inches
Apple has a handy comparison tool on its website that allows you to see how the screen sizes and phone dimensions differ across the three new models. As you can see, the iPhone 11 Pro is the go-to choice for people who want the latest and smallest iPhone available, while the iPhone 11 Pro Max is the best new iPhone for giant phone lovers. Meanwhile, the iPhone 11, while not quite as advanced as the Pro models, sits in the middle with a 6.1in display that might just be able to please people in both camps.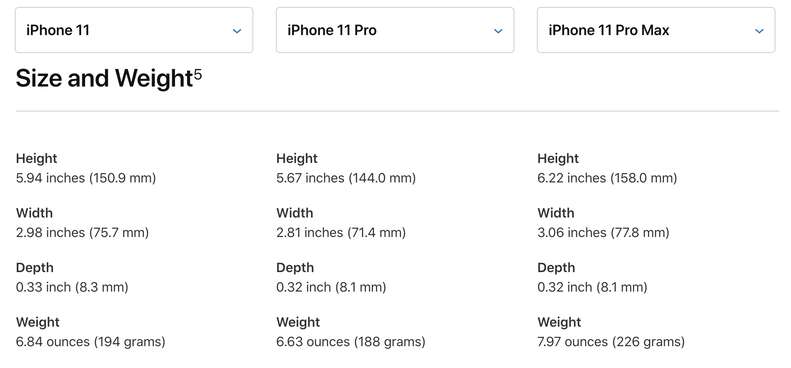 Obviously, it's hard to visualize the size differences when all you've got it a list of dimensions. Seeing the phones makes it a lot easier, and thankfully, there's already a good shot (shown below) from the Tuesday event that shows how the sizes stack up. The 6.1in iPhone 11 is pictured on the left, while the iPhone 11 Pro and iPhone 11 Pro Max (the bigger of the two) are on the right.
The bottom line: Better luck next year, small phone people.
Sign up here for our daily Thrillist email and subscribe here for our YouTube channel to get your fix of the best in food/drink/fun.
Send news tips to news@thrillist.com and follow Thrillist on Twitter @thrillist.