All the Best New Camera Features of the iPhone X
It's that time of year again: Apple is doing its damnedest to convince you to upgrade to a new phone with a brand new lineup of handsets: the iPhone 8, iPhone 8 Plus, and the special 10th anniversary edition iPhone X. Along with new features like a bezel-less OLED screen, Face ID, and wireless charging, the latter phone's camera capabilities alone are enough to make you feel inadequate about your current phone. Here's what you need to know.
The rear dual-lens camera is a step up from the iPhone 7 Plus'
Like the iPhone 7 Plus (and the newly announced 8 Plus), the iPhone X's rear-facing camera features two 12MP lenses, but it's also been decked out with a handful of upgrades. For one,
both lenses now feature optical image stabilization
, which helps offset hand shakiness and helps you capture even sharper images and video in low light. Plus,
the telefoto lens boasts an improved f/2.4 aperture
.
The X is also equipped with a new quad LED TrueTone flash and something Apple calls "Slow Sync," which works together to improve the quality and uniformity of light in your composition.
Apple
The front-facing TrueDepth camera is crazy powerful
As impressive as the rear-facing dual lens system is, it's the X's front-facing TrueDepth camera that steals the show. Packed inside the small notch at the top of the newly bezel-less screen is
a complex camera system that serves as the foundation for the new Face ID feature
, and consists of a dot projector, infrared camera, and flood illuminator, all of which work in tandem to rapidly map and authenticate your face.
Besides scanning your face to verify you are indeed you (and create custom animated emojis that capture your unique facial expressions), the 7MP front-facing camera is also a damn good camera for, well, shooting selfies. In fact, it not only boasts auto image stabilization to help you snap sharper shots, but also now supports Portrait Mode. Yep, that means you can now take exceedingly dramatic selfies using the Portrait Mode's depth effect.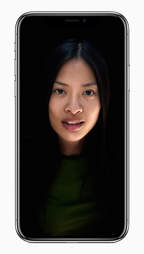 Apple
Portrait Mode just got even better
Although Portrait Mode debuted less than a year ago with the iPhone 7 Plus, it's getting a major upgrade thanks to the introduction of something Apple's calling Portrait Lighting. You'll be able to toggle between this new suite of five different lighting styles within Portrait Mode, and it will enable you to create and control dramatic lighting options for whatever subject you're shooting with the depth effect. And since Portrait Mode is also available on the front-facing camera, you'll be able to take advantage of the new Portrait Lighting styles when you're snapping a dramatic selfie, too.
It can shoot stunningly high quality video
According to Apple, the X's rear camera is capable of capturing the highest quality video of any smartphone ever, and with better video stabilization. Specifically, it can shoot 4K video up to 60 frames-per-second and 1080p slo-mo footage up to 240 frames-per-second.

Sign up here for our daily Thrillist email and subscribe here for our YouTube channel to get your fix of the best in food/drink/fun.