Here's Why This Historic Mansion Is Selling for Only $10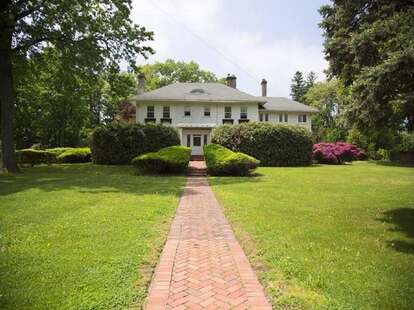 If you've been thinking about relocating to Northern New Jersey lately, or want to live in a giant house without ponying up mansion-caliber cash, your timing could not be more perfect. That's because a handsome historic home in Montclair, NJ is currently on the market for just $10. Seriously. However, the deal does come with a catch: on top of your Alexander Hamilton, you'll also have to pay to have the home moved off its current property.
The the nearly 4,000 square foot home currently sits at 44 Pleasant Avenue, property that was recently approved to be transformed into an 8-lot subdivision. However, the approval stipulates that the developer can't simply knock down the six-bedroom, three-and-a-half bathroom 110-year-old abode -- it will have to be sold and moved elsewhere nearby. That's because not only was it designed by the renowned local architect Dudley S. Van Antwerp, but it was also once home to Aubrey Lewis, a star New Jersey athlete who later went on to become one of the first African Americans in the F.B.I. Those historic distinctions prompted the town's Planning Board to put in places some protections.
More specifically, the rules set by the Planning Board require several specific things: the home must be sold for no more than $10, but the buyer must pay for any remediation needed (e.g., repairs), and also cover the costs associated with moving the home off the property, minus $10,000 contributed by the current owner. Also, the home must be moved within a quarter mile of its exiting location. Yes, that's a lot of conditions, but it turns out it's still a pretty great deal.
According to a firm that specializes in moving homes from one place to another, hauling a large house like this one could cost up to $200,000. However, if you're not moving it more than a quarter mile, it could be substantially cheaper. When you consider the last time it was on the market it was listed for over $1.35 million, you'd be paying a fraction of the price you otherwise would have. Of course, that listing price also included the 2.7 acres it's sitting on, and you'll need to presumably pay for whatever empty lot you relocate it to.
Another important detail: the deal must be struck by August 31. But long list of requirements aside, when's the last time you saw $10 digs on the market? If, for some reason, you're interested in literally relocating with the house, you can send an offer to 44pleasantave@gmail.com. It remains to be seen if the owners will accept the payment in cash, though.
Sign up here for our daily Thrillist email and subscribe here for our YouTube channel to get your fix of the best in food/drink/fun.