Poll: Everyone Hates New Jersey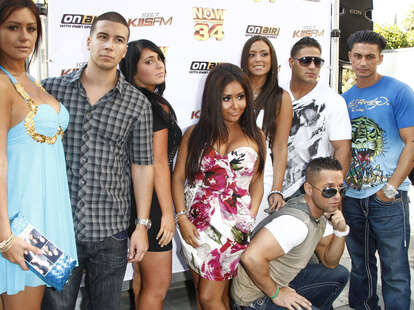 <a href="http://www.shutterstock.com/gallery-751606p1.html?cr=00&amp;pl=edit-00">Joe Seer</a> / <a href="http://www.shutterstock.com/editorial?cr=00&amp;pl=edit-00">Shutterstock.com</a>
<a href="http://www.shutterstock.com/gallery-751606p1.html?cr=00&amp;pl=edit-00">Joe Seer</a> / <a href="http://www.shutterstock.com/editorial?cr=00&amp;pl=edit-00">Shutterstock.com</a>
While you'll never truly understand New Jersey unless you've lived there, the land of Chris Christie's presidential aspirations and home of not pumping your own gas can't escape its reputation: It's now the least liked state in America, according to a new poll by YouGov. We are a nation of mean girls and Jersey can't sit with us anymore.
The poll results found -- and you might want to put down your pork roll for this -- New Jersey is actually the only state Americans dislike, with 40% saying they have an unfavorable opinion of the state and 30% saying they have a favorable opinion, combining for a favorability rating of -10%, according to YouGov. New Jersey has always had a bad rap thanks to its, uh, memorable characters, stereotypes, and elected officials, but man... there's a lot of Haterade going on around the country. This is the state that brought the world Ol' Blue Eyes, The Boss, and John Travolta. OK, maybe that last one's not great. But still. Bon Jovi!
Even Alabama, the second least-liked state, scored above zero with a favorability rating of +8%, followed by perfectly good places like Illinois (+9%), Mississippi (+9%), and Indiana (+12%), rounding out the bottom five states.
And while haters keep hating on Jersey, the results show Americans surprisingly like sparsely populated states. The top spot went to Hawaii (+56%), which isn't a shocker, but Montana (+43), Wyoming (+42%), Alaska (+42%), and Maine (+42%) followed thereafter, according to YouGov.
Bottom line: America likes everyone... except New Jersey.
Tony Merevick is Cities News Editor at Thrillist and, personally, has nothing against New Jersey or its people just so y'all know. Send news tips to news@thrillist.com and follow him on Twitter @tonymerevick.