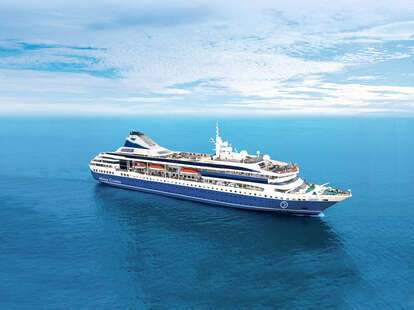 Courtesy of Miray Cruises
Courtesy of Miray Cruises
Listen, we understand that life on land can get pretty tedious pretty quickly. Between mind-numbing traffic, lines at the post office, scooping out the litter box, and any number of daily land-based annoyances, it's not surprising that the thought of leaving it all behind for a new life on the water can sound pretty enticing.
If any part of that paragraph resonated with you, there's a brand new cruise that might be for you. On Wednesday, Miray Cruises announced its latest cruise offering: the accurately-titled Life at Sea Cruises.
The cruise is said to be the world's first—and only—three-year-long cruise. Yes, that's right. Three years. Over 1,000 days. More than 26,000 hours. Over the course of the journey, guests will travel over 130,000 miles to visit 375 ports spread across 135 different countries on seven continents, including destinations as varied as Antarctica, Fiji, Madagascar, and Hawaii. The stops themselves include 13 Wonders of the World and each stop will allow guests to spend multiple days exploring the various locales "at their own pace," according to the announcement.
While aboard the boat, guests will be able to enjoy "world-class dining, onboard entertainment, and recreational activities" via on-board facilities like a swimming pool, sundeck, auditorium, and a state-of-the-art wellness center. They'll be able to get some work done too thanks to an on-board business center featuring meeting rooms, 14 offices, a lounge, and business library. In case anyone is feeling under the weather, they can also enjoy a 24-hour-on-call hospital offering free medical care.
"Life at Sea Cruises offers the ultimate bucket list cruise without having to sacrifice the comforts of home," Irina Strembitsky, Director of Sales & Marketing at Life at Sea Cruises, said in a statement. "It's your home at sea with the world as your backyard."
Of course, the comforts of home come at a cost. Prices for this journey start at $29,999 per year, and payment options from an all-inclusive $2,499 per month are also available.
While it's the longest cruise that we're aware of, the Life at Sea experience isn't the only cruise of its kind to be announced recently. Last month, Victoria Cruises Line announced a new offering of a 27-month-long world cruise launching this May. And last year, Storylines unveiled MV Narrative, a luxury, 1,000-night residential cruise experience prepping its maiden voyage for 2024.
As for the Life at Sea cruise, its three-year voyage is scheduled to begin November 1 in Istanbul, with pickups in Barcelona and Miami. To learn more or to book a reservation, you can head to this website.