Qatar Airways Just Unveiled Its Newest Airport Lounge, and It's Epic
The Garden is open to the airline's premium passengers flying through Hamad International Airport.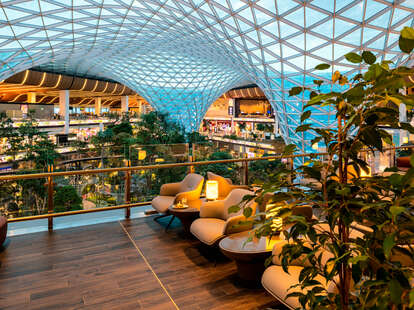 Photo courtesy of Qatar Airways
Photo courtesy of Qatar Airways
Qatar Airways has just made your next trip through Hamad International Airport in Doha a relaxing, nature-oriented experience.
The airline just unveiled its new Al Mourjan Business Lounge, dubbed The Garden, which is located in the northern expansion of Hamad International Airport and it spreads across almost 80,000 square feet (7,390 square meters). Available for the airline's premium passengers, the lounge is an extension to the existing Al Mourjan Business Lounge – South for the airline's first and business class passengers, and it serves as a modern oasis of relaxation for travelers.
Overlooking the gorgeous greenery of The Orchard below and surrounded by natural lights and exotic plants, Al Mourjan Business Lounge is designed to pamper guests while they are waiting for their next flight. Thanks to unique relaxation spaces, including 24 quiet spaces, and multiple areas for guests to socialize, the lounge is the perfect spot to surround wind down and get treated to stellar service while at the airport.
In addition to quiet spaces, which are free of charge for the first six hours of your lounge stay, The Garden is equipped with a slew of amenities to fulfill both your leisure and relaxation needs. Guests can enjoy spa facilities as well as manicure and pedicure stations, and those looking to break a sweat before their flight will be able to do so at the lounge's fitness studio, which flaunts treadmills, an elliptical, and even exercise bikes, as well as locker rooms to safely store your belongings. Once you're done, you can also take advantage of the lounge's showers and washrooms to freshen up before heading to the gate.
The space is also great for families and kids, thanks to a nursery and a game room.
Dining options are not to be overlooked either. On the East Wing, guests can enjoy the main dining areas and grab a bite from both hot and cold buffets. There is also sushi available, as well as a wide selection of coffee and patisserie and both cocktail and bistro bar options. If you'd rather dine à la carte, you can also choose that option.
The West Wing offers a quieter experience. There, passengers can find the showers and the quiet areas, as well as prayer rooms and meeting rooms. Light bites are offered at the West Wing's coffee and patisserie bar, and guests can also enjoy a selection of drinks at its refreshment station.
"At Qatar Airways, excellence is embedded in the core of our brand, and as we continue to evolve our offerings, we choose to provide our passengers with the very best experiences in aviation and hospitality," Qatar Airways Group CEO Akbar Al Baker said in a statement. "This world-class lounge showcases a sophisticated way of travel, centered in comfort, wellness and nature. I welcome our premium passengers to experience this spectacular addition to our signature lounge portfolio."