This New Resy Program Could Get You a Table at Impossible-to-Book Restaurants
Get a table at one of the hottest restaurants in the US.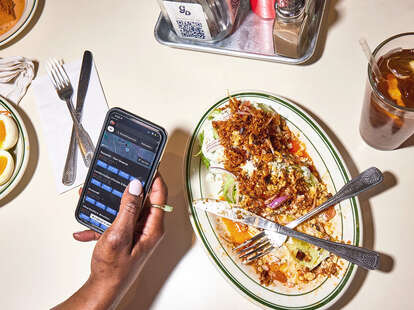 Courtesy of Resy
Courtesy of Resy
Resy, the ubiquitous reservation booking platform, recently conducted a study that revealed that 48% of people are worried about getting a great reservation to impress their guests and, for Gen Z and millennials, that number rises to about 51%. Getting a good reservation is somewhat of a status marker, and because of that, achieving that is even harder.
Resy is trying to make it a bit easier and will be dropping reservations for 12 top restaurants around the country between May 8 and 12, each day at 10 am. You will be able to grab a reservation at places like Anajak Thai and Pijja Palace in Los Angeles and Le Diplomate and Rose's Luxury in Washington, DC—here's the schedule for a chance to grab reservations at these popular restaurants:

Monday, May 8: Anajak Thai and Pijja Palace in Los Angeles
Tuesday, May 9: Le Diplomate and Rose's Luxury in Washington, DC
Wednesday, May 10: Lilia and Tatiana in NYC
Thursday, May 11: Joe's Stone Crab and Walrus Rodeo in Miami
Friday, May 12: Rich Table and Penny Roma in San Francisco, Galit and Elina in Chicago

These special reservations will include exclusive experiences, so each "drop" (think clothing, sneakers, and bags) will not only create reservation envy for everyone you know, but you'll also be able to share an ultra memorable meal with your dining guests. Resy will drop sought-after reservations in London the following week, between May 15 and 19. Head to Resy.com/Drops for your chance to snag one of these bookings.
Resy's study found that the five most stressful types of people to book restaurants for, according to respondents, are picky eaters, people with allergies/intolerances, partners/dates, in-laws/parents, and people who are passionate about food. In light of this new information, Resy is also launching "Reservationships" which will help anyone, even someone with vegan in-laws with nut allergies, find the perfect dining spot.
"Reservations have become cultural currency and Resy is at the center of it," says Hannah Kelly, CMO at Resy, in a statement. "This new brand platform, Reservationships, highlights, celebrates and cultivates deeper connections between guests and restaurants. When you have a 'Reservationship' with Resy you get intel on restaurant openings, access to events, tips for where to go and how to get in and the inside track to restaurants is unlocked."
If you don't manage to get your hands on one of these reservation drops, you can head to Resy's guide to snagging hard-to-get reservations which includes insider information from some of the top restaurants in the world.