Oreo's Newest Flavor Is a Sweet Take on a Classic Dessert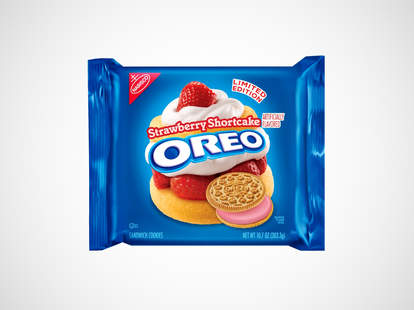 While the original Oreo will always reign as the supreme sandwich cookie, occasionally, a new Oreo flavor will emerge that's actually worthy of being dipped in your glass of milk -- like last year's red velvet flavor. And now, it looks like another genuinely good Oreo flavor is on the way, and it's based on another classic dessert: strawberry shortcake. 
A little more than month after unleashing new Filled Cupcake Oreos from the Oreo Wonder Vault, a package of limited edition Strawberry Shortcake Oreos was recently spotted on Instagram, according to a report by consumer blog The Impulse Buy. Here's the Instagram post showing the new cookies:
 
When reached by Thrillist, an Oreo spokeswoman said the new Strawberry Shortcake flavor is indeed coming soon -- hitting stores shelves nationwide on April 4th. But there's just one catch: the flavor will be exclusively sold at Wal-Mart stores while supplies last, so don't expect to find them on a midnight munchie run to your corner store, unfortunately. But it you're able to get your hands on them, cheers to pink milk!
Sign up here for our daily Thrillist email, and get your fix of the best in food/drink/fun.
Tony Merevick is Cities News Editor at Thrillist and wonders if they turn your milk pink. Send news tips to news@thrillist.com and follow him on Twitter @tonymerevick.