Twitter Rolled Out a New Design and Everyone Is Making the Same Joke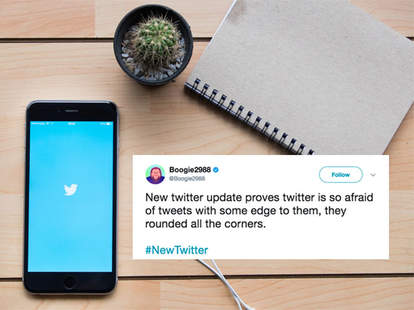 Shutterstock | Twitter Screengrab
Twitter rolled out a new look and a handful of upgrades Thursday. The changes filtered through Twitter.com, its iOS app, TweetDeck, and other platforms throughout the day. For not the first time, Twitter proved platform updates are a double-edged sword. Sometimes there are legitimately helpful updates, and sometimes the update is ridiculed mercilessly. This might fall into the latter category, judging by the reaction on Twitter.
The platform says the update was conceived with "lots of feedback and ideas from you," but what is likely the most requested updated -- an edit button -- still hasn't arrived. Instead, most Tweeters think the biggest change to the platform is that anything with sharp edges has had its edges rounded out.
It had everyone making jokes about the overhaul.
Oddly, Twitter didn't give jokes about the redesign its own moment.
New twitter update proves twitter is so afraid of tweets with some edge to them, they rounded all the corners.#NewTwitter

— Boogie2988 (@Boogie2988) June 15, 2017
Among the changes that don't involve cutting corners, Twitter has streamlined the iOS app with a side navigation menu and fewer tabs at the bottom of the app. In the announcement, Twitter says it has also "refined our typography to make it more consistent, and added bolder headlines to make it easier to focus on what's happening." Any typography fans in the house?
the new @Twitter design is what happens when you let companies have too many meetings. ban meetings and this never happens again

— The Mountain Goats (@mountain_goats) June 15, 2017
Additionally, reply, retweet, and like counts now update live. Memelords will no longer have to hit refresh to see if their dank memes are hitting.
Basically, they just took a belt sander to the old design. If yours hasn't updated yet, spend a few moments to enjoy the good old days while they're still the present.
the new twitter update is so ugly but I know I'll get used to it in a week and not even remember the old design so what's the point

— Christine Sydelko (@csydelko) June 15, 2017
Sign up here for our daily Thrillist email, and get your fix of the best in food/drink/fun.
Dustin Nelson is a News Writer with Thrillist. He holds a Guinness World Record but has never met the fingernail lady. Follow him @dlukenelson.