United Airlines Just Opened Its Largest-Ever Club
The new club sprawls across 35,000 square feet and three floors.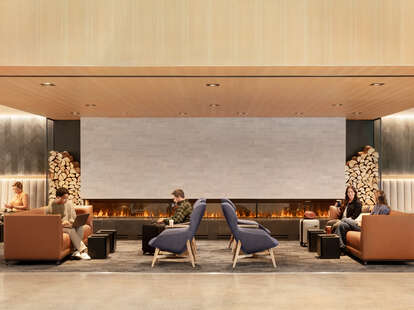 Photo courtesy of United Airlines
Photo courtesy of United Airlines
United Airlines just went all out and fancy, and just opened its largest club in the world.
Next time you're passing through Denver's airport, consider paying the new hub a visit—it will likely be a hard one to miss, considering it sprawls across 35,000 square feet of space in Concourse B.
The new United Club is part of United's $1 billion investment in Denver aimed at improving customer experience, which last month saw the opening of yet another United Club in the same airport, but this time occupying 24,000 square feet in Concourse A.
Located right by gate B44, the larger club of the two sits across three different levels and flaunts more than 600 seats. Inside, the space gives the cozy feel of a modern brewery, filled with locally-sourced artwork and furnishings, concrete floors, and exposed ceilings.
It isn't a coincidence—the space is made to express and convey the idea of Denver's beer scene through both the decor and the bar's offerings. On the mezzanine level, in fact, guests can take part in a beer tasting experience at the bar, where they can choose from a seasonal rotation of 10 local and craft beers coming from some of Colorado's most iconic breweries. Dining is, of course, a premium experience as well. Both new clubs also offer locally-inspired dining options like oatmeal paired with Colorado honey and an egg frittata inspired by the Denver omelette.
In terms of amenities, those aren't lacking either. Free high-speed Wi-Fi is available in both clubs, and guests can access both spaces via a seamless self-scan entry system. Agents are also available for any travel-related queries, and those looking to relax before their flight can head over to the wellness rooms for some self-care time.
Take a look at some photos of the United Club inside B Concourse below: