Universal Is Opening a Brand New Theme Park in Texas
The new park will be built on 97 acres of land in Frisco.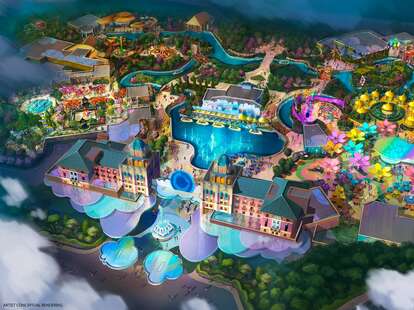 Courtesy of Universal Parks & Resorts
A new theme park is coming to Frisco, Texas. Universal Parks & Resorts is planning to open a park that caters to families, and it will be set in a vibrant green landscape. The park will contain different themed lands, family-friendly attractions, interactive shows, and character meet-and-greets.
In a press release, Universal explained that the new park will be smaller than other theme parks, as it will be designed for a regional audience. Universal purchased 97 acres of land for the new park, and plans to use some of the extra land to build a themed hotel and create additional space for the park itself.
"We are excited about the opportunity to partner with the city of Frisco and Mayor Cheney as we work to bring this innovative, new concept to life designed specifically for a younger generation of Universal fans," said Page Thompson, president of new ventures at Universal Parks & Resorts, in a statement. "We think North Texas is the perfect place to launch this unique park for families given its growing popularity within this part of the country."
Right now, there aren't that many additional details available about the park. We don't know the name, when it will open, or which characters and rides the park will specifically contain. Universal stated that details about the park would be shared over time. So if you are excited about a theme park coming to Frisco, keep your eyes on Universal's announcements.