We're Declaring All of January a Holiday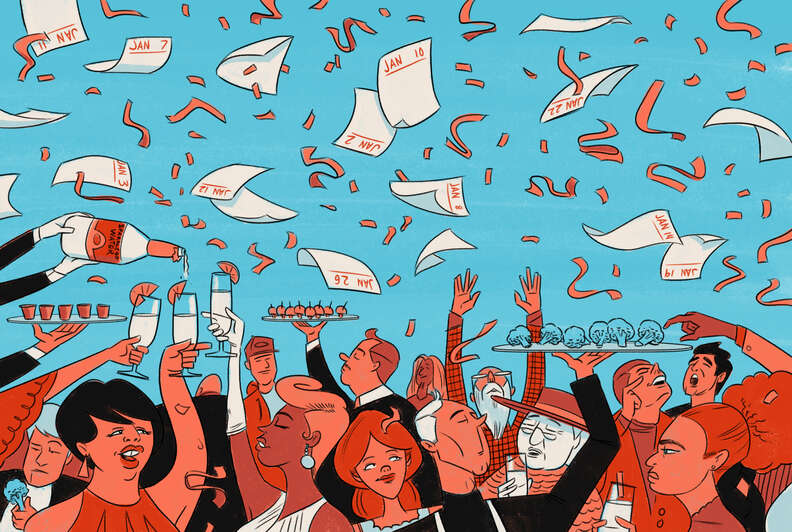 Jason Hoffman/Thrillist
Jason Hoffman/Thrillist
Hey. How's your January going? Got some resolutions? Eating vegan this month? Intermittent fasting? Doing dry January? Meditating before meals? Or just ignoring the whole thing out of protest?
You know what this all looks like to us? A holiday.
That's right, a holiday, like Christmas, or Halloween, or Thanksgiving. I'm not talking about New Year's Day. This goes way beyond The Morning of Regrets/Brunch of Bold Intentions. The whole month of January has all the elements of a holiday. You've got rituals: setting resolutions, joining a gym, clearing your home of all the junk food. You've got special foods: this year plant-based is big, but keto is still going strong, and some of you dusted off your blenders for smoothies. You've got special beverages, non-alcoholic beer, and dry cocktails, maybe spiked with CBD. And you've got the haters, the people who make a point of telling everyone they do not! Do! Resolutions! There's even a three-day weekend, thanks to Martin Luther King Day, built into the end of the month.
It's a month-long wellness holiday. If you're not changing your diet, maybe you're curious about the whole sauna scene, connecting with nature more via glamping, or prepping for an intervention. Resolutions are out and "intentions" are in, but we all know they're basically the same thing. On every grocery magazine stand, every morning TV show, everyone's damn Instagram feed, it's all about do this, do that, feel better, live longer, be more alive. Here are tips, here are resources, here's a roadmap to your Best Self.
And maybe this is the former health coach in me, but I kind of love it all. I really love me a fresh start. This year I'm going to go on at least one hike a month. So I say, let's lean into the holiday aspect of it. If leprechauns are the heroes of St. Patrick's Day and Baby Yoda is the hero of May the Fourth, we are the heroes of January Wellness Month. Or Januwelly, as I like to call it. You, yes, YOU, are the hero this time. Isn't that amazing?
Here at Thrillist, we are celebrating Januwelly in earnest. We've shared the best non-alcoholic beers and energizing office snacks, and in the coming weeks we'll be telling you all about dry cocktails, plant-based yogurt and ice cream, whether this whole oat milk thing is overblown, and do-gooder sweeteners.
We need this holiday. Because the fun of Christmas is over and there's nothing but slush and grey skies from here until May. We need the stimulation. We need the hope and the newness. We need to be warmed through the winter with heroic stories of self care.
Januwelly is our way of saying yes to life. I want that spark, I want the energy, I am not going to sleepwalk through 2020. I am here to live, damnit. I am here and I am striving to be the most elevated version of myself I can possibly be. For approximately 31 days. Because after that I'll need a cookie.
Are you really sticking with a plant-based diet for the rest of your life? Probably not. But in trying a lot of new foods, you may come across a cuisine you'll love for the rest of your life. It's a gamble that could change your life. But that's not even the point. The point is to participate in the celebration. It's the trying that keeps us alive through this crummiest of months.
So happy Januwelly!
Sign up here for our daily Thrillist email, get Eatmail for more food coverage, and subscribe here for our YouTube channel to get your fix of the best in food/drink/fun.