Where to Watch New Year's Eve Broadcasts
Hopefully, you've followed through on last year's new year's resolution to learn the words to "Auld Lang Syne." It's almost time to flip the calendar over and hope the next 365 days are better than the last 365 days.
For anyone staying up to watch the ball drop live in NYC and switch the calendar to 2018 -- because there's no better time to get started on your new year's resolutions than the middle of the night -- here are the live streams and TV specials where you can watch the biggest new year's eve countdown festivities taking place live all across the country.
Shutterstock
New Year's Rockin' Eve (ABC, 8pm/11:30pm)
The New Year's staple was made an institution by Dick Clark. Ryan Seacrest, who first co-hosted in 2005, will continue the broadcast from Times Square with reports coming from Los Angeles, New Orleans, Las Vegas, and St. Maarten. Seacrest will be joined by co-hosts Jenny McCarthy and Ciara. Additionally, Mariah Carey returns as the headliner despite last year's performance being marred by sound issues. The show starts early and breaks at 11pm for local news. It will resume at 11:30pm.
Performers: Mariah Carey, Britney Spears (from her Las Vegas residency), Jonas, Sugarland, Camila Cabello, and more
Watch: On TV or via the ABC Streaming App (Subscribers only)
Jeremy Freeman/CNN
New Year's Eve with Anderson Cooper and Andy Cohen (CNN, 8pm)
Anderson Cooper is back for the 11th installment of his New Year's Eve soiree. He's joined by new co-host Andy Cohen, who is replacing longtime co-host Kathy Griffin. At 12:30am, Don Lemon and Brooke Baldwin take the reins. That last part might seem beside the point, but Lemon had a good handful of drinks before going on air last year, and it was immensely entertaining. Lemon and Baldwin will broadcast from New Orleans and ring in the new year with the central time zone. 
Performers: Celine Dion, Keith Urban, and more
Watch: Live on CNN and the CNN Go app (subscribers only)
New Year's Eve with Steve Harvey (FOX, 8pm/11pm)
After three years, Pitbull's New Year's Revolution gets the boot. FOX will broadcast a new special hosted by Family Feud's Steve Harvey, live from Times Square. Like the Seacrest special, it starts at 8pm and takes a break for local news. It returns at 11pm ET and runs into the new year.
Performers:  Celine Dion, the Backstreet Boys, and Macklemore
Watch: Local FOX station or FOX's live streaming app
 
Shutterstock
Times Square Live Broadcast (TimesSquareNYC.org, 5pm)
This online-only broadcast will stream for free with host Jonathan Bennett (Cake Wars, Mean Girls) and co-hosts Andrea Boehlke and Jeremy Hassell. The broadcast schedule features snippets from just about every other New Year's Eve broadcast, including some of the night's best musical performances. This broadcast will air the ball drop in Times Square at midnight.
Performers: Neil Diamond, Mariah Carey, Nick Jonas, Andra Day, Andy Grammer, Sugarland, Lauren Alaina, Camila Cabello, Chyno Miranda, and Leslie Grace
Watch: Streaming at TimesSquareNYC.org
New Year's Eve Countdown 2018 (Netflix, On Demand)
Netflix is lending a hand to parents who want to enjoy the party. The streaming service has kid-friendly countdowns available to stream from its popular kid's shows, making it feel like midnight whenever you want to put the kids down for the night. There are countdowns available from All Hail King Julien, Beat Bugs, Puffin Rock, Skylanders Academy, Trollhunters, True and The Rainbow Kingdom, and Word Party.
Watch: Netflix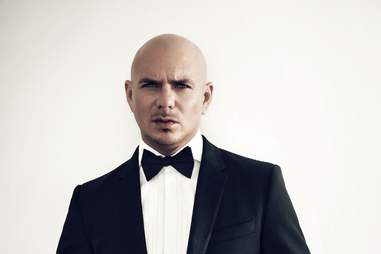 Univision
¡Feliz 2018! (Univision, 10pm)
Univision personalities Raul de Molina, Alejandra Espinoza, Adriana Monsalve, Pamela Silva-Conde, Poty Castillo and Borja Voces will ring in the new year from across the US, with broadcast teams in New York, Los Angeles, Las Vegas, and San Antonio. Additionally, with his FOX special canceled, Pitbull will be joining the Univision broadcast from his concert in Miami. 
Performers: Pitbull, Bad Bunny, Banda El Recodo, Bronco, Carlos Vives, Chiquis, Ha*Ash, Karol G, Leslie Grace, Luis Coronel, Mau and Ricky, Olga Tañon and Sebastian Yatra
Watch: Unvision on TV or the Univision NOW streaming app
NY Philharmonic New Year's Eve: Bernstein on Broadway (PBS, 9pm)
The New York Philharmonic carries on its New Year's Eve concert tradition by celebrating the 100th birthday of the legendary Leonard Bernstein, including works from "West Side Story" and other Broadway classics by Bernstein. However, the broadcast doesn't make it all the way to the new year.
Watch: PBS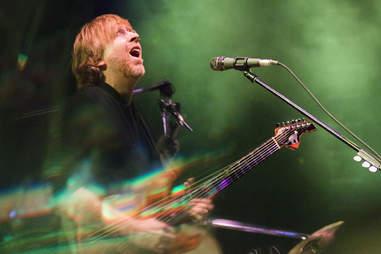 RENÉ HUEMER/PHISH
SiriusXM Live Broadcasts (SiriusXM)
Perfect for anyone who will be driving or is having a party that could use a little live music, SiriusXM will broadcast live concerts from around the country. Times vary, but you'll be able to hear My Morning Jacket live at 1st Bank Center (SiriusXM channel Jam On), Jane's Addiction at Belly Up Aspen (Lithium), Willie Nelson at Austin's Moody Theater (Willie's Roadhouse), Phish at Madison Square Garden (Jam On), Jimmy Buffet at Nashville's Bridgestone Arena (Radio Margaritaville), Southside Johnny at the Count Basie Theatre (E Street Radio), Kaskade at the Bill Graham Civic Auditorium (BPM), The Revivalists at the Orpheum Theater (Jam On), Third Eye Blind at the Observatory (PopRocks), Widespread Panic at the Fox Theater (Jam On), and Peter Asher at the Musical Instrument Museum (60's on 6).
Sign up here for our daily Thrillist email, and get your fix of the best in food/drink/fun.
Dustin Nelson is a News Writer with Thrillist. He holds a Guinness World Record but has never met the fingernail lady. Follow him @dlukenelson.