Here's How to Watch the New Year's Eve Countdown Broadcasts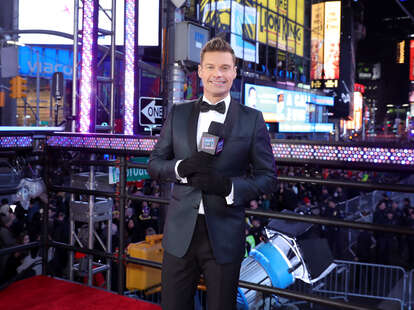 Neilson Barnard/Getty Images Entertainment
New Year's Eve is here, you're resolving to become a more responsible human being, and the much-ballyhooed ball is finally going to drop. Was the first time you saw this incredibly disappointing because you were picturing a high-velocity descent ending in a shower of glass? Yes, probably. Are you going to watch it every year until you die anyway? Yes, definitely.
You're going to watch because the point isn't the ball; it's the people who are screaming numbers in unision with you. Your friends, your family, the strangers in the airport bar -- and, yes, the people on the television, who are arguably as important as the people there in person.
To help you choose the ideal TV accompaniment, we've broken down your countdown broadcast options below, as well as how to watch the one you've settled on. Happy new year, y'all.
Who's hosting and performing?
Dick Clark's New Year's Rockin' Eve with Ryan Seacrest
Despite its misleading name, this broadcast will be hosted by Ryan Seacrest, who joined the festivities back in 2005. He may not be Dick Clark, but he is, as they
say on BoJack Horseman
, a "Ryan Seacrest-type." Actress and comedian Jenny McCarthy Wahlberg will also share hosting and reporting duties for the 47th anniversary of America's "most watched annual New Year's tradition." Christina Aguilera will perform -- as well as Bastille, Dan + Shay, and New Kids On The Block.
New Year's Eve with Anderson Cooper and Andy Cohen
Anderson Cooper has been doing this for over a decade, but this will be his co-host Andy Cohen's second time around. People loved him last year, though, and we can only assume he'll be better with another year's experience. For those not on the East Coast, Brooke Baldwin and Don Lemon will be doing another Central Time Zone countdown from New Orleans.
New Year's Eve with Steve Harvey
Steve Harvey, noted ruiner of dreams at the Miss Universe pageant, will be hosting FOX's New Year's celebration along with Maria Menounos. There will also be appearances from Ken Jeong of Crazy Rich Asians, Kenan Thompson of Saturday Night Live, as well as Fox NFL Sunday talking-men Curt Menefee, Terry Bradshaw, Howie Long, Michael Strahan, and Jimmy Johnson. Sting, Robin Thicke, Florence + the Machine, Jason Aldean, Juanes, and Why Don't We will all be performing.
Times Square Live Broadcast
This will be a commercial-free, webcast of the ball drop and all-around celebration with performers and celebrities. We'll know who those performers and celebrities are soon.
¡Feliz 2019!
Univision's celebration will "showcase inspiring stories, celebrity appearances, heartwarming surprises and over 20 star-studded performances from four different locations." The hosts in New York include Raul de Molina, Vadhir Derbez, Alejandra Espinoza, Brea Frank, Julian Gil, Jacky Guerrido, and Clarissa Molina -- plus performances from Mau y Ricky, Lali Espósito, and Paulina Rubio.
On the West Coast, Karina Banda, Migbelis Castellanos, Jomari Goyso, Omar y Argelia, and Alan Tacher will host live from Disneyland -- with performances by Joss Favela, Lupita Infante, and Mariachi Divas. Finally, from Miami, Tony Dandrades, Chyno Miranda, Aleyda Ortiz, Pamela Silva, and Pitbull will be performing along with DJ Chino and Chyno Mirandain.
Ninja's New Year's Eve
If you're into this kind of thing, the world's most followed Fortnite performer on Twitch, Ninja, is hosting his very own New Year's Eve celebration live from Time's Square. He'll be streaming for 12 hours, along with surprise guests.
What channel is it on?
ABC
Dick Clark's New Year's Rockin' Eve with Ryan Seacrest will air for five-and-a-half hours starting at 8pm EST on ABC.
CNN
New Year's Eve with Anderson Cooper and Andy Cohen will air for five hours starting at 8pm EST on CNN.
FOX
New Year's Eve with Steve Harvey will air from 8 to 10pm and 11pm to 12:30am EST on FOX.
Times Square Live Broadcast
The ball drop and festivities will be live-streamable from TimesSquareNYC.org.
Univision
¡Feliz 2019! will air will air for six hours starting at 9pm EST on Univision.
Twitch
Ninja's New Year's Eve will air for 12 hours starting at 4pm EST on Twitch.
How to stream online
To stream the festivities online, the
Times Square Live Broadcast
is probably your simplest bet. That or -- if you're Gen Z and this isn't past your bedtime -- go ahead and check out the
Twitch
broadcast.
The TV channels, on your other hand, like ABC, FOX, Univision, and CNN, all have apps that you can download and watch stream the celebration on. You can also head to their websites, as some, like CNN, won't even require a login to watch the general revelry.
How to watch the ball drop
If you want to watch the ball drop, again your simplest bet is to check out the
Times Square Live Broadcast
. But all of the above will be broadcasting the (slightly anti-climactic) drop.
Sign up here for our daily Thrillist email and subscribe here for our YouTube channel to get your fix of the best in food/drink/fun.