Sub-zero temperatures and absurd piles of snow have been tearing through much of the US, and it's not over. The cold spell is expected to last through New Year's Eve across the country. Between Winter Storm Frankie in the Northwest and temperatures that are double-digit negatives in the Upper Midwest and Northeast, it's a miserable time to be outside.
Revelers in Times Square are in for a treat as they get ready to watch the ball drop. New York is expected to get near-record breaking low temperatures as "Auld Lang Syne" breaks out across the country. 
A blast of Arctic air is going to help keep temps below freezing into 2018. The current Weather.com forecast calls for a low of 8 degrees Fahrenheit on New Year's Eve. That's around 16 degrees colder than average, according to FOX 5 NY. With the wind chill, Times Square could feel sub-zero, and there may even be a light dusting of snow to set the scene. 
Accuweather adds that 10-to-20 mile per hour winds will make the "RealFeel" temperatures 5-to-10 degrees below zero.
Recommended Video
Double Chicken Please Is a Traveling Bar in the Back of a 1977 Vintage Van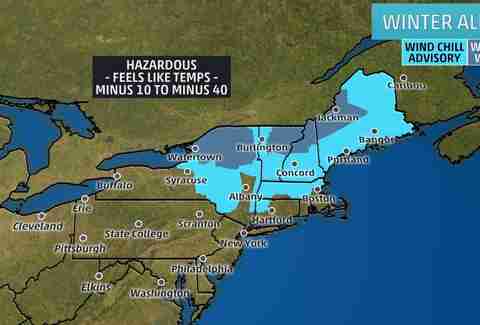 More than one million people are expected to welcome the new year in Times Square, and with the temperature this cold, they probably won't give a damn that it's not quite going to be a record. Accuweather puts the coldest ball drops at 1 degree in 1901, 11 degrees in 1962, and 15 degrees in 1976 and 1996.
On the upside... there are no bathrooms in Times Square? To get a good spot you'll have to stand outside all day? There isn't much of an upside here.
Sign up here for our daily Thrillist email, and get your fix of the best in food/drink/fun.