A Company's 4-Day Work Week Plan Is Being Called an 'Unmitigated Success'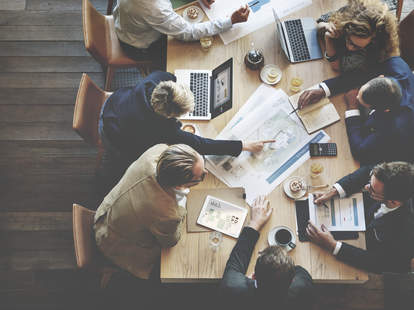 In the wise words of that band Blink-182, work sucks. And if it's ever occurred to you that work would suck less if only you had to work less, you're apparently right.
A  trial testing out a four-day work week from March to April at a firm in New Zealand has been called an "unmitigated success," and The Guardianreports that 78% of employees felt they could successfully manage their work-life balance, a full 24% increase from before the trial started.
Perpetual Guardian manages trusts, wills, and estate planning, and its 245 staff members were still paid for a five-day work week, though their office time was reduced to four eight-hour days a week. Qualitative and quantitive data was collected by academics, and their insights determined that employees performed their jobs better and enjoyed them more, which looks like great news for humanity.
Perpetual Guardian's founder, Andrew Barnes, came up with the idea in the hopes that time spent at work would be more productive and time spent away would be more fulfilling. It seems he was right, and the firm is looking at implementing the four-day week long-term.
Staff stress levels dropped by 7%, as commitment and a sense of empowerment at work increased, and overall life satisfaction jumped by 5%. Is it terrifying to hear life satisfaction described in a percentage? Sure, but it's good to know somebody's keeping track.
"Employees designed a number of innovations and initiatives to work in a more productive and efficient manner, from automating manual processes to reducing or eliminating non-work-related internet usage," Helen Delaney, a senior lecturer at the University of Auckland Business School, told The Guardian.
New Zealand's workplace relations minister, Iain Lees-Galloway, is also encouraging other companies to try out new work models, so the country's taking notice. Now we just need to get this spread around here. So go tell your boss you'll be better at your job if you don't come in on Friday?
h/t The Guardian
Sign up here for our daily Thrillist email and subscribe here for our YouTube channel to get your fix of the best in food/drink/fun.