TV news reporters have one of the worst jobs in town when the weather goes full Waterworld. The recent blizzards in the midwest and along the east coast were a good reminder of this. Reporters are sent out to prove it's actually snowing, in case viewers can't be bothered to look out the window during their snow day.
News Be Funny put together a compilation of snowy news bloopers and it proves it's a horrible assignment. Reports in the snow can go wrong in so many ways.
Recommended Video
Please Don't Hang Up: The Best Things to See, Eat, and Do in Portland, ME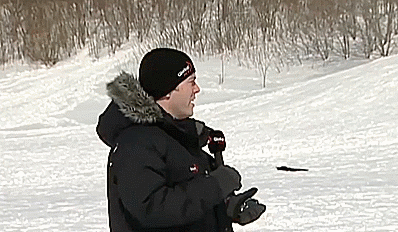 YouTube | News Be Funny
Mostly it's blowing snow and slipping on ice while freezing your ass off. Also, snow angels, for some reason. In the proud tradition of trying to fry an egg on the sidewalk to prove it's hot, reporters love (or are coerced into) making snow angels for some indiscernible reason.
However, there's occasionally a brilliant "man on the street" interview to be found. For instance, one man tells a reporter that winter is "the Justin Bieber of seasons. It was cute and exciting when it first started out and now it's a bit obnoxious and should probably just stay in Canada." Sir, run for public office. You have a way with words.
 
YouTube | News Be Funny
The other strange bit about this compilation is, if you weren't already aware, there is a proud tradition of pelting reporters with snowballs during a storm. Not everyone may have known that, but this video provides hard evidence that this is a genuine occupational hazard.
Watch the full thing above and try to be nice to the next reporter you see standing in a blizzard. They aren't having a good time. 
YouTube | News Be Funny
Sign up here for our daily Thrillist email, and get your fix of the best in food/drink/fun.