Here Are the Best Food Deals You Can Get for This Week's NFL Games
Add some free food to your game day spread.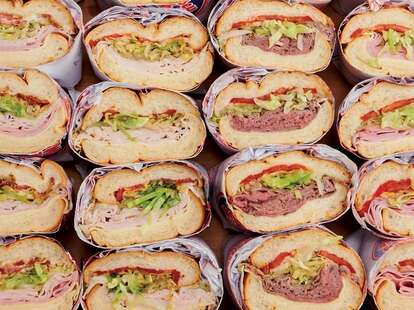 Photo courtesy of Ike's Love & Sandwiches
The NFL season has started again, and it looks pretty weird. Stadiums are empty, Tom Brady's a Buc, and Stefon Diggs isn't taking passes from Kirk Cousins.
Fortunately, one thing that has changed in the drastically altered world is that you can still load the coffee table with wings, nachos, the tears of Jets fans, and every other game day classic. To that end, we've pulled together all the best deals you're going to find on Sundays during the games this season. That includes deals from restaurants like Applebee's and Chili's to pizza chains like Pizza Hut and Blaze to make sure you're eating like it's an ol' Sunday during the season.
Check out our continuously updated list of the deals below and be well fed as DeAndre Hopkins is playing with Kyler Murray.
Free Food During the NFL Games This Week
Shake Shack
The deal: Take advantage of a buy-one-get-one-free deal on single burgers and chicken sandwiches to start the new year. Use the code "THANKYOU" when you order through the Shake Shack site or mobile app.
When: Through January 3
Wendy's
The deal: Make any purchase at all through the Wendy's mobile app and you'll get a free Breakfast Baconator.
When: Through January 17
Wendy's
The deal: You're going to grab a free Jr. Bacon Cheeseburger when you make any purchase in the Wendy's mobile app.
When: Through January 31
Wendy's
The deal: Grab a free order of Wendy's new Pub Fries with a purchase in the mobile app.
When: Through January 31
Panera
The deal: Sign-up for the My Panera Coffee subscription (usually $8.99 a month) and you'll get three free months. That subscription gets you unlimited coffee while you're subscribed.
When: Sign-up through December 31
Corner Bakery
The deal: It's launching "Free Coffee at the Corner." You don't have to buy anything at all, you're just getting a free coffee in any size when you stop by a Corner Bakery. You're even able to order that freebie online.
When: Daily through December 31
Popeyes
The deal: Get a free three-piece order of chicken tenders when you place your first order through the chain's mobile app.
When: Ongoing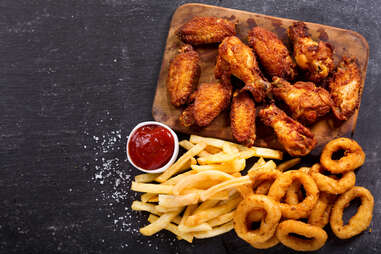 Whether celebrating good times includes a couple of treats or a bowl of teriyaki chicken & rice, you should be able to enjoy whichever foods you like -- without the occasional heartburn that can come with it. TUMS antacids tackle multiple symptoms at once, allowing you to focus on your course and company.
Food Deals During NFL Games on Sunday
Arby's
The deal: Nab five roast beef sandwiches for $10 right now.
When: Just for a little while
Quiznos
The deal: Get free delivery when you order through Uber Eats and hit the $10 order minimum.
When: Through February 20
Dunkin'
The deal: To introduce its new Extra Charged Coffee—it has 20% more caffeine—to the world, you can get a medium for $2.
When: Through January 26
Popeyes
The deal: Grab a Rip'n Chicken box for $6, which includes a chicken breast filet, two sides, sauce, and a drink.
When: For a bit
Pizza Deals Available During NFL Games on Sunday
Pizza Hut
The deal: To celebrate its Stuffed Crust Pizza (and counter a rival launching its own version), you can grab a large, three-topping Stuffed Crust pizza for $11.99.
When: A limited time
Little Caesars
The deal: Get your pizza delivered and you'll get $5 off your order. It doesn't matter what's in your order. Though, it has to be your first time ordering delivery through LC and you need to use the code "TRYDELIVERY1."
When: Through January 31
Pieology
The deal: Pieology is celebrating National Pizza Week with free crust upgrades on any order as long as you've downloaded the Pie Life Rewards app or are an existing Pie Life user.
When: January 10-17
BJ's Restaurant & Brewhouse
The deal: Use the code "HALFOFF" on Tuesday through Sunday to get half-off the price of a large pizza when you order online. On Mondays, you can get half off a Deep Dish or Tavern-Cut Pizza, but it's the deal of the day and you don't need to use a code.
When: Ongoing
Marco's Pizza
The deal: The code "MED699" will get you a medium one-topping pizza for $6.99.
When: "For a limited time"
Grimaldi's
The deal: There's a new $25 meal deal that you can get for carryout. It comes with an 18-inch traditional cheese pizza, a small house or Caesar salad, and your choice of a slice of cheesecake or two mini cannolis. Unfortunately, it's not available at locations in New York, New Jersey, or Connecticut.
When: Ongoing
Hungry Howie's
The deal: Use the code "PICK2" to get your pick of any two items from a limited menu with each item costing just $5.99. The options include pizza, sticks, soda, and cookies.
When: Ongoing
Blaze Pizza
The deal: Order online to get two large two-topping pizzas for $22. That's so many twos.
When: Ongoing
Blaze Pizza
The deal: Get free delivery through Postmates if you hit the order minimum of $15.
When: Ongoing
Round Table
The deal: The large Double Play Pepperoni Pizza is $19.99 for a whole lot of pizza and little red circles.
When: Ongoing
Casey's General Store
The deal: Grab buy-one-get-one-free large pizzas throughout National Pizza Week.
When: January 10-17
Free Delivery Available During Sunday NFL Games
Ike's Love and Sandwiches
The deal: Use the Ike's app to get free delivery anytime this month.
When: Through January 31
Other Food Deals to Order During the NFL Games on Sunday
Wendy's
The deal: Donate $2 to the Dave Thomas Foundation to get a key tag that will land you free Frostys for an entire year.
When: Buy through January 31
McDonald's
The deal: Use the McDonald's mobile app to get a 20-piece order of Chicken McNuggets for $4.99. You can use the deal once per week for as long as it's running. Though, there's no listed expiration date.
When: Ongoing
Burger King
The deal: For $5 you can grab two Whopper Jr meals through the mobile app. That's two Whopper Jrs, two small French Fries, and two small soft drinks.
When: Ongoing
Burger King
The deal: Use the BK mobile app to grab a free kids meal with any purchase.
When: Ongoing
Applebee's
The deal: Order an entrée, and you can add one dozen Double Crunch Shrimp for just a buck.
When: "For a limited time"
Taco Cabana
The deal: There are a few deals you can snag at Taco Cabana right now. Get two Nutella empanadas for $2.99 (or a dozen for $14.99), $2 margaritas, or a gallon of margaritas to go for $34.99.
When: Ongoing
Quiznos
The deal: Get four meals for $29.99. The family meal comes with four 8-inch subs, four bags of chips, and four cookies. Use the very memorable code "8026."
When: Ongoing
Hooters
The deal: Make a $30 purchase and you'll get $10 off with the code "GET10." Place an order for $50, and you'll wind up with $15 off when you use the code "GET15." However, if you think you've spotted a trend, you'll be disappointed to find out there's no "GET20."
When: Ongoing
Taco Cabana
The deal: If you work in a restaurant, hotel, food service industry, grocery store, big-box store, or drugstore, you can get 50% off your order when you purchase while wearing a uniform or show an ID.
When: Ongoing
Starbucks
The deal: Order delivery through Uber Eats and you'll get a $0 delivery fee. (Though, there will likely still be an order fee involved.)
When: Ongoing
Olive Garden
The deal: The pasta chain is now offering alcohol delivery with $15 bottles of wine, $10 six-packs, and $3 White Claws. You have to order food to get alcohol, and the deal is only available where local laws permit.
When: Ongoing
Want More Food Deals?
Here's our huuuuuuuge running list of all the free food you can get right now, as well as the best pizza deals, reward programs, birthday freebies, gift card offers, deals on food for kids, food delivery offers, and alcohol delivery deals you'll find. If you want a little more than, say a free taco, we also have you covered with a long list of meals you can get at fast food chains under $5. You're welcome.
Additionally, we've put together a list of places offering free food to healthcare workers and first responders during the COVID-19 outbreak.
Sign up here for our daily Thrillist email and subscribe here for our YouTube channel to get your fix of the best in food/drink/fun.