Here Are the Best Food Deals You Can Get for This Week's NFL Games
Add some free food to your game day spread.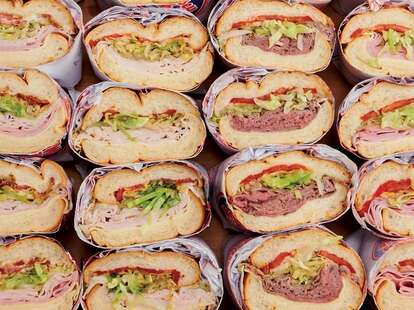 Photo courtesy of Ike's Love & Sandwiches
Editor's Note: Information listed here may be subject to change depending on the developing situation with COVID-19's Omicron variant. Please check for the latest updates available or contact each establishment directly for more info.
The regular season took an extra week this year, but it's over and the NFL playoffs are underway. Eight teams remain. There's a mix of veteran, first-ballot Hall of Famers like Aaron Rodgers fighting for a spot in the Super Bowl against young superstars like Josh Allen.
Some things look brand new, like Matthew Stafford winning a playoff game, and some things are very familiar, like Tom Brady and a coffee table loaded with wings. We can help with the latter. We've pulled together all the best deals you're going to find on Sundays for the playoffs from restaurants like Popeyes or Hooters.
Check out our continuously updated list of the deals below and be well fed as Tyreek Hill is playing with Patrick Mahomes.
Free Food During the NFL Games This Week
Jimmy John's
The deal: The sandwich shop's Freaky Fast Rewards program will set you up with a free eight-inch sandwich after your first order through the app.
When: Ongoing
Friendly's
The deal: Join the Friendly's Sweet Rewards Club and you'll get a free medium sundae.
When: Ongoing
Halo Burger
The deal: Nab a free QP Burger after your first loyalty visit to the burger chain.
When: Ongoing
Penn Station East Coast Subs
The deal: Order a sub online and you can get a free small sub with the code "PSBOGO."
When: Ongoing
Wendy's
The deal: Buy any breakfast sandwich to get a free drink. Any drink. That includes coffee, soda, Dave's Craft Lemonades, or Frosty-ccinos. Just use the app to order
When: Through February 20
Wendy's
The deal: Get a free medium order of fries through the mobile app with any purchase. You can get the deal once a week through the end of the deal.
When: Through February 27
Boston Market
The deal: The rotisserie chain is offering free kid meals. No purchase is required at all. Kids 12 and under can just grab a free one.
When: For just a little while
Food Deals During NFL Games on Sunday
Popeyes
The deal:The Big Box deal has returned. For $6, you get to choose two pieces of bone-in-chicken or three tenders with two sides and a buttermilk biscuit.
When: For a limited time
Wienerschnitzel
The deal: Take $1 off any veggie dog in the house.
When: Through January 31
Jimmy John's
The deal: Use the code "SAVEON2" to get a sandwich at half-price when you buy another one through the app.
When: Through February 14
Wendy's
The deal: Buy a Premium Burger and you'll get a second one for $1. You can redeem the deal once per week through the end of the month.
When: Through January 31
Cheddar's Scratch Kitchen
The deal: The restaurant now offers Family Bundles to-go. Entrée options include House-Smoke Baby Back Ribs, Chicken Tenders, and Grilled Salmon. For $24.99, the Bundle also comes with two family-sized sides and a half-dozen Honey Butter Croissants.
When: Ongoing
Taco Cabana
The deal: If you work in a restaurant, hotel, food service industry, grocery store, big-box store, or drugstore, you can get 50% off your order when you purchase while wearing a uniform or show an ID.
When: Ongoing
Taco Cabana
The deal: There are a few other deals you can snag at Taco Cabana right now. Get two Nutella empanadas for $2.99 (or a dozen for $14.99), $2 margaritas, or a gallon of margaritas to go for $34.99.
When: Ongoing
Quiznos
The deal: Get four meals for $29.99. The family meal comes with four 8-inch subs, four bags of chips, and four cookies. Use the very memorable code "8026."
When: Ongoing
Hooters
The deal: Make a $30 purchase and you'll get $10 off with the code "GET10." Place an order for $50, and you'll wind up with $15 off when you use the code "GET15." However, if you think you've spotted a trend, you'll be disappointed to find out there's no "GET20."
When: Ongoing
Moe's Southwest Grill
The deal: Every Sunday, kids under 12 get a free meal with the purchase of an adult entrée of at least $6.
When: Every Sunday
Dickey's Barbecue Pit
The deal: Kids can get free Texas-style barbecue on Sundays with all delivery and carryout orders when you use the code "KEFOLO." Though you have to order at least one entrée and hit the $10 minimum. If your kids like Texas-style barbecue, Sunday is a big day.
When: Every Sunday
Pizza Deals Available During Sunday NFL Games
Casey's
The deal: Buy-one-get-one-half-price large pizzas with the code "BOGO" throughout January and February.
When: Through February 28
Blackjack Pizza
The deal: Grab a large, one-topping pizza for $10.99 with the code "LIT."
When: Ongoing
Free Delivery Available During Sunday NFL Games
Popeyes
The deal: You can get your craving for that chicken sandwich fulfilled. Popeyes is offering free contactless delivery through its app with a minimum $20 order.
When: Ongoing
Miguel's Jr.
The deal: Order through Uber Eats for free delivery. New DoorDash customers can get free delivery with a $15 minimum order. Additionally, if you order through Grubhub, you can get $5 off orders placed from 11am to 7pm.
When: Ongoing
Bonchon
The deal: Get free delivery when you order through the Bonchon website or app.
When: Through January 31
GoPuff
The deal: New users to the convenience store delivery service will get $10 off their first two orders with the code "GET20." Though, you're going to have to hit the $20 order minimum both times.
When: Through December 31
Rubio's Coastal Grill
The deal: Place an order directly through the Rubio's app or Rubios.com to get free delivery on any order of at least $20.
When: Ongoing
Sign up here for our daily Thrillist email and subscribe here for our YouTube channel to get your fix of the best in food/drink/fun.