Niantic Finally Explains the Awful 'Pokémon Go' Update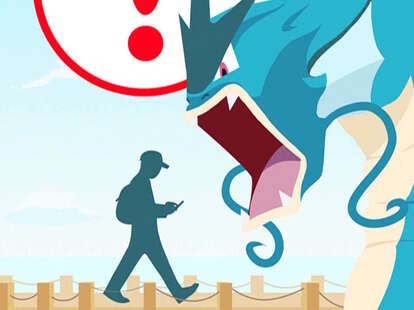 Some of Pokémon Go's biggest fans are not happy -- and perhaps even ditching the game -- after a recent software update removed the "Nearby" Pokémon hunting tool, eliminated battery saving mode, and blocked Pokémon tracking cheats, among other big changes. As the outrage continues to grow, the game's developer released a statement on Tuesday, explaining the controversial tweaks.
Niantic Labs shared the brief statement on Facebook, saying "[w]e have read your posts and emails and we hear the frustration" after the update, but stopped short of apologizing to players for the widely derided changes. The fallout after the Saturday software update was swift, especially on the popular Pokémon Go subreddit, where dozens of players vented their frustrations, sharply criticized the company, and even posted explainers on how to demand refunds for in-app purchases. Players have also destroyedthe game's rating in the App Store, with more than 21,000 reviews resulting in just 1.5 stars. Damn.
Here's the full statement:
Trainers,
As many of you know, we recently made some changes to Pokémon GO.
- We have removed the '3-step' display in order to improve upon the underlying design. The original feature, although enjoyed by many, was also confusing and did not meet our underlying product goals. We will keep you posted as we strive to improve this feature.
- We have limited access by third-party services which were interfering with our ability to maintain quality of service for our users and to bring Pokémon GO to users around the world. The large number of users has made the roll-out of Pokémon GO around the world an... interesting… challenge. And we aren't done yet! Yes, Brazil, we want to bring the game to you (and many other countries where it is not yet available).
We have read your posts and emails and we hear the frustration from folks in places where we haven't launched yet, and from those of you who miss these features. We want you to know that we have been working crazy hours to keep the game running as we continue to launch globally. If you haven't heard us Tweeting much it's because we've been heads down working on the game. But we'll do our best going forward to keep you posted on what's going on.
Be safe, be nice to your fellow trainers, and keep on exploring.
The Pokémon GO team
Sign up here for our daily Thrillist email, and get your fix of the best in food/drink/fun.
Tony Merevick is Cities News Editor at Thrillist and is still unhappy about his significantly weaker Vaporeon. Send news tips to news@thrillist.com and follow him on Twitter @tonymerevick.