This Recording of Nick Offerman Reading Mark Twain Is Almost Too Perfect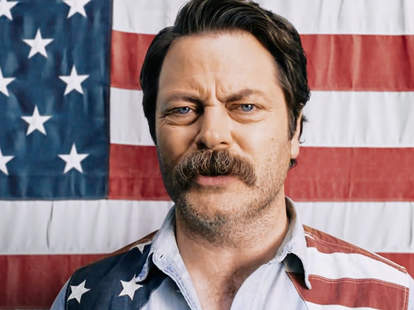 <a href="http://www.morethanmore.com/wp-content/uploads/2015/02/nascar-nick-offerman-super-bowl-halftime.jpg">Morethanmore</a>
Every now and then two things perfectly converge and make life better, forever. Pasta and parmesan cheese. Jelly and cream cheese. Tiny horses and Pawnee, Indiana. This is one of those moments. There's a new audiobook of Mark Twain's Tom Sawyer read by comedian and real life Mark Twain character Nick Offerman. 
Offerman will forever be associated with meat-obsessed anti-government Libertarian Ron Swanson, the character he played on Parks & Recreation for seven seasons. The best part of that role continues to be how closely it hues to Offerman's actual personality, with his love woodworking, puzzles, and all things manly and gentlemanly.
That all adds up to make him the perfect person to read you Tom Sawyer. Just take a listen to one of the excerpts from the audiobook here and try to not be charmed by hearing the exact voice playing in your head while you read Twain in school. 
The new audiobook is available from Audible, that company that has ads on every podcast in the iTunes Store. There's always some kind of deal for a free download or two, so enter the code from your podcast of choice and download this for free, because it will make life better as you drive along a desolate highway, chop wood with earbuds in or pretend like Ron Swanson is reading to you until you fall asleep.
Sign up here for our daily Thrillist email, and get your fix of the best in food/drink/fun.
Dustin Nelson is a News Writer with Thrillist. He holds a Guinness World Record, but has never met the fingernail lady. He's written for Sports Illustrated, Men's Journal, The Rumpus, and other digital wonderlands. Follow him @dlukenelson.