Now You Can Put Nickelodeon's Slime on Your Food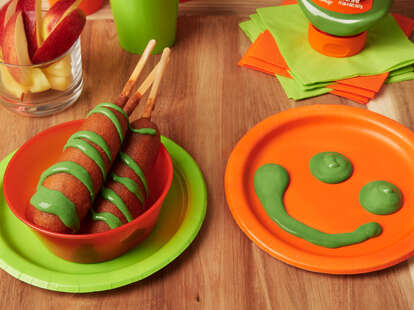 Courtesy of Walmart
Courtesy of Walmart
There are few things that instantly connotate Nickelodeon in the 90s like that gooey green slime. It's basically Proust's madeleine (but, you know, gross) for anyone who came of age during the channel's golden age. Double Dare and Legends of the Hidden Temple. All That and Are You Afraid of the Dark? Aaahh!!! Real Monsters and Rocko's Modern Life.
You were always curious what it would be like to get slimed, that weird viscous slime dripping down your face and inevitably getting in your mouth. Now you can know what it would taste like. Nickelodeon and Walmart have released Slime Sauce, which is absolutely not the actual slime from the 90s, but a green ketchup that looks eerily close to the consistency of the slime.
The green ketchup is available exclusively at Walmart for $2.58 a bottle.
It's not quite what you wanted as a kid, but it's about as close as you're going to get at this point. You're too old to get slimed in the 90s or live your dream of running through the Temple with the Blue Barracudas logo on your chest. Sorry. But ketchup is good, too.
Sign up here for our daily Thrillist email and subscribe here for our YouTube channel to get your fix of the best in food/drink/fun.

Dustin Nelson is a News Writer with Thrillist. He holds a Guinness World Record but has never met the fingernail lady. Follow him @dlukenelson.