You Can Actually Spend a Night in Dracula's Castle and Yes, It's Creepy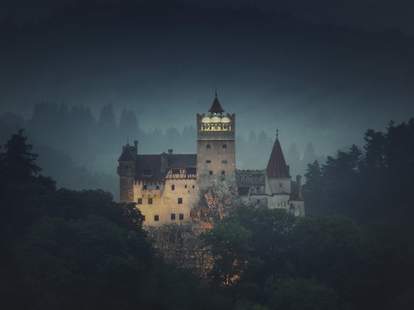 It's the plot of so many scary movies for kids from the 80s and 90s. A bunch of kids are sitting around and one challenges another to spend the entire night in the scary house down the street. This is that moment. You've been challenged to head to Transylvania Romania and spend the night with howling wolves and the specter of Bela Lugosi. You're not scared, are you?
This is special not just because of the travel, but because that creepy house on a hill is Dracula's castle. And not in a Scooby Doo way, where someone says that before they rip off the Dracula mask at the end and it was just John Goodman trying to scare the local kids. This is Bran Castle in Romania's Carpathian Mountains, a castle closely associated with Vlad the Impaler. Bram Stoker crafted Dracula after Vlad, which may or may not be a compliment, depending on your perspective. He also crafted Dracula's Castle on descriptions of Bran Castle, cementing the association between the two.
Airbnb
Airbnb is giving away an all expenses paid trip to stay in this beautiful and creepy castle. The winner will be taken up to the castle via horse-drawn carriage, just like Jonathan Harker. And like Harker, you'll be met by your host after arrival. Only, instead of a blood-sucking king of the undead, your host will be Dacre Stoker. He's the great-grandnephew of Bram Stoker and an expert on "Transylvanian lore."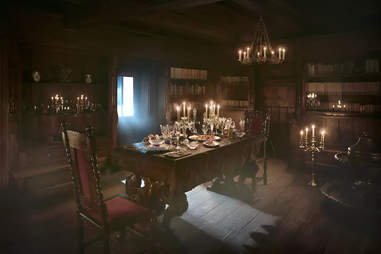 Airbnb
As a part of the package, you'll walk a secret passage on the first floor to the grand dining room for a candlelit dinner, prepared exactly the way Harker's first meal in the castle was prepared in the novel.
The castle houses over 57 rooms with a bevy of towers and secret passageways. Guests will be able to explore at their leisure until bedtime when they'll be taken to their quarters, comprised of velvet lined caskets in the castle's crypt. It will be a nice, quiet evening of sleep that couldn't in any way be construed as totally terrifying.
If this all sounds like your bag, you can apply for the night of creepy fun here. Your travel and expenses are covered by Airbnb, but they do ask that you leave garlic and silver jewelry at home. It's not that the castle is haunted, they just really don't want you to lose your priceless jewelry and garlic so far from home.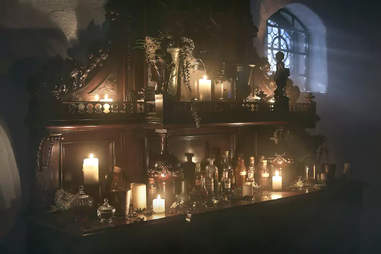 Airbnb
Sign up here for our daily Thrillist email, and get your fix of the best in food/drink/fun.
Dustin Nelson is a News Writer with Thrillist. He holds a Guinness World Record, but has never met the fingernail lady. He's written for Sports Illustrated, Men's Journal, The Rumpus, and other digital wonderlands. Follow him @dlukenelson.