Nintendo May Have Just Hinted That a Nintendo 64 Classic is Coming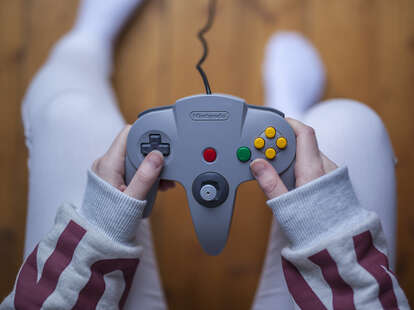 The runaway success of its mini throwback consoles has Nintendo bringing back the NES Classic this summer. In fact, you'll be able to pick up the NES Classic and the SNES Classic over the summer. (Unless they disappear instantly once again.)
Fans of the retro gaming consoles might have something else to get excited about. Last summer, a patent for Nintendo 64 controllers got people excited about the possibility of a Nintendo 64 Classic. Nintendo never tipped its hand, but eagle-eyed gamers have another reason to believe this gaming system could be in the works. The site Japanese Nintendo has spotted (and translated) a trademark application for the N64 in Japan.
As Digital Trends notes, trademark applications are often filed without the intention of making a new product. However, with the success of the previous two consoles, it wouldn't be surprising if another was in the works. Additionally, the filing arrives just a few weeks before E3, which would be an appropriate time for Nintendo to make an announcement like this.
The 64 might drive a little less excitement than the NES or SNES consoles, but there are still loads of classic games that people would clamor to revisit. Super Mario 64, Mario Kart 64, Star Fox, and GoldenEye along would be plenty of reason to drop the $60-80 you had to drop on the previous two consoles. At least, they cost that little if you were able to avoid the grossly inflated prices on the second-hand market.
h/t Digital Trends
Sign up here for our daily Thrillist email and subscribe here for our YouTube channel to get your fix of the best in food/drink/fun.

Dustin Nelson is a News Writer with Thrillist. He holds a Guinness World Record but has never met the fingernail lady. Follow him @dlukenelson.