You Can Finally Pre-Order the SNES Classic Edition Later This Month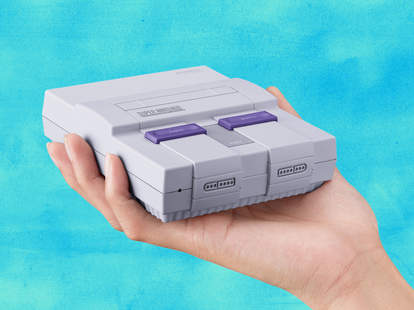 It took a false start and a backlog of cancelled pre-orders, but none of that matters anymore, because the SNES Classic Edition -- the sequel console to the discontinued, wildly successful NES Classic -- will officially be available for pre-order before the end of the month, Nintendo confirmed on Tuesday.
Cue the applause of nostalgia-heads and video game nerds everywhere. For anyone super pumped to play classic SNES games like The Legend of Zelda: A Link to the Past, Star Fox, and its as-yet-unreleased sequel Star Fox 2, this is incredible news. Nintendo announced the news on Facebook:
"We appreciate the incredible anticipation that exists for the Super Nintendo Entertainment System: Super NES Classic Edition system, and can confirm that it will be made available for pre-order by various retailers late this month," the company posted. Following the pre-orders, it officially goes on sale in brick-and-mortar stores and online on September 29, its official release date.
Nintendo also promised -- vaguely -- that in addition to the pre-orders, "a significant amount of additional systems will be shipped to stores for launch day, and throughout the balance of the calendar year." After that, getting your hands on one doesn't look very promising. 
This means it's anticipating that the SNES Classics will go fast, but hopefully they won't go as fast as their NES Classic predecessors, which tended to sell out within hours. For fans out there looking to grab one, the new consoles should go for about $80 at their retail price.