Nintendo's Bringing Back the NES, but It's Tiny and Has 30 Built-In Games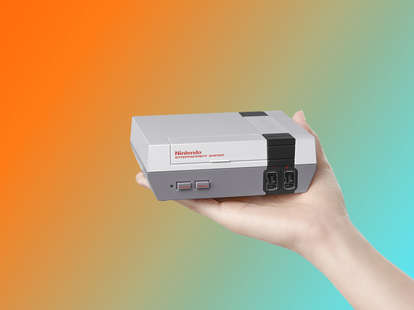 It's only been around a week since Pokémon Go transported us all back to the '90s via its Pikachu-powered time machine, but now, it looks like Nintendo wants to crank up the nostalgia even more this year by bringing back one its earliest systems: the NES. That's right, the Nintendo Gaming System is officially coming back.
The new, palm-size version of the console is called the NES Classic Edition, and it arrives in stores just in time for holiday shopping madness on November 11th at a suggested retail price of $60, so get ready to tear open your presents like it's freaking 1985 again. Even the box (pictured below) is designed to look like a throwback to the fonts and colors of 30-something years ago.
In fact, Nintendo admits the machine is meant to bring you back to the glory days of Donkey Kong, describing it as a "nostalgia-fueled system" that's a "near-identical, mini replica" of the original NES that includes a controller designed to look just like the iconic NES gamepad. However, you won't need to dust off your old audio and video input cables, because the new console (thankfully) connects to your TV via HDMI.
You can double up on controllers for two-player games for another $10. But perhaps the best part about the resurrected gaming system is that it comes with 30 classic games -- Super Mario Bros., The Legend of Zelda, Metroid, Donkey Kong, PAC-MAN, among others -- built right in. Here's the full list, per a press release:
Balloon Fight™
BUBBLE BOBBLE
Castlevania™
Castlevania II: Simon's Quest™
Donkey Kong™
Donkey Kong Jr. ™
DOUBLE DRAGON II: THE REVENGE
Dr. Mario™
Excitebike™
FINAL FANTASY®
Galaga™
GHOSTS'N GOBLINS®
GRADIUS™
Ice Climber™
Kid Icarus™
Kirby's Adventure™
Mario Bros. ™
MEGA MAN® 2
Metroid™
NINJA GAIDEN
PAC-MAN™
Punch-Out!! ™ Featuring Mr. Dream
StarTropics™
SUPER C™
Super Mario Bros.™
Super Mario Bros. ™ 2
Super Mario Bros. ™ 3
TECMO BOWL
The Legend of Zelda™
Zelda II: The Adventure of Link

In other words, it looks like Pokémon Go could very well be just the beginning of your nostalgia-fueled gaming addiction this year. Your move, Crash Bandicoot (Sony).
Sign up here for our daily Thrillist email, and get your fix of the best in food/drink/fun.
Tony Merevick is Cities News Editor at Thrillist and needs one of these things immediately. Send news tips to news@thrillist.com and follow him on Twitter @tonymerevick.