Best Buy Will Have NES Classics for Sale Before Christmas, But for One Day Only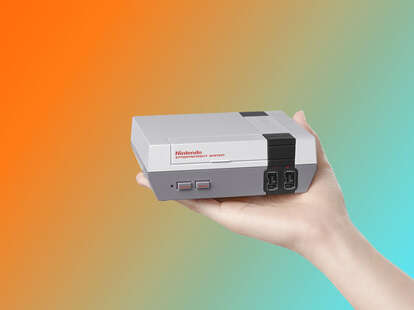 When the Nintendo NES Classic Edition released November 11, gamers squealed, and bought up quantities at basically every brick-and-mortar retailer and online store, rendering the console sold out everywhere.
Since then, the nostalgic gaming unit has cropped up at a few places as part of specialty deals -- WalMart sold it during a week-long extravaganza last month, while Urban Outfitters teased the masses by selling the NES for just a single day. Now though, Nintendo-heads can rest easy, as the product is coming to Best Buy on December 20.
The news comes by way of an accident, actually, as video game site Desctructoid explains. Best Buy sent out an email to customers on Wednesday, noting that the chain would be selling the NES "tomorrow, December 20." Being that it was only December 7, customers received another email acknowledging the error, and also confirmation of the console's triumphant return to Best Buy on December 20.
The console will only be available at physical store locations, and stock will of course be limited, because why over-indulge on something so sought-after? That's not to say you shouldn't line up early at your local tech emporium if you really want to play Super Mario and 29 other classic Nintendo titles throughout the holidays. The NES Classic Edition costs a modest $60 when bought in an actual store, which sounds far better than spending hundreds on the console from a third-party seller.
Sign up here for our daily Thrillist email, and get your fix of the best in food/drink/fun.
Sam Blum has been known to ruin many good moments by yelling "It's on like Donkey Kong!" at the top of his lungs. Don't invite him to your LAN-party. Follow him @Blumnessmonster.