Amazon Is Selling the SNES Classic Edition Right Now in 12 Cities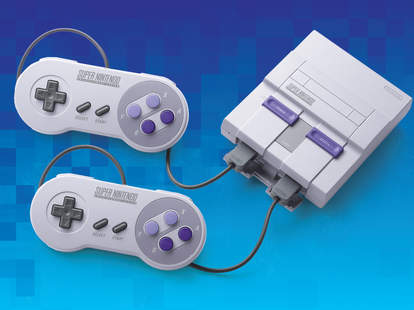 Edited - Maggie Rossetti/Thrillist, Courtesy of Nintendo
Although Nintendo's highly sought-after SNES Classic Edition has remained sold out on Amazon since it first debuted in September, the retail giant is finally unleashing some stock of the miniature console ahead of the holidays. But instead of making it available online via Amazon Prime, the company is selling the system at its physical Amazon Books stores in 12 cities across the country.
Starting on Wednesday, December 13, Amazon Books locations will offer "limited quantities" of the SNES Classic Edition for the suggested retail price of $79.99, according to the company's announcement on Twitter. It's currently unclear how many of the consoles each store will have in stock as part of the apparent flash sale, but considering its scarcity across the board, chances are there won't be many. So, uh, you may want to get on that ASAP if you're near one of the 13 Amazon Books store locations, which are all listed on Amazon's website.
The nostalgia-inducing gaming system comes with two controllers and features 21 built-in classic Nintendo games, including Donkey Kong Country, Final Fantasy III, and Super Mario Kart. Nintendo officially released the console in the United States on September 29, and despite its promise to produce "significantly more" units of the device than the NES Classic Edition (the SNES Classic's predecessor), it's been consistently sold out at major stores.
Unfortunately, the sale appears to be the only way to get the SNES Classic through Amazon for now, unless you want to pay $120 or more for one via a third-party seller on the site. But if the company's string of flash sales for the NES Classic around this time last year are any indication, Amazon may have some more tricks up its sleeve in the lead-up to Christmas. If not, other retailers like Best Buy, Walmart, and GameStop will likely have some more in stock -- albeit not many -- for the holiday shopping season.
Sign up here for our daily Thrillist email and subscribe here for our YouTube channel to get your fix of the best in food/drink/fun.
 
Tony Merevick is Senior News Editor at Thrillist and would love to play some Donkey Kong this Christmas. Send news tips to news@thrillist.com and follow him on Twitter @tonymerevick.