This Summertime Temperature Map Shows How F*cked We Are
Ah, summer, a time for sun-soaked days at the beach, BBQs, road trips, music festivals, and OH MY GOD HOW IS IT SO DAMN HOT SOMEONE MAKE IT STOP. That's generally how the stages of the season play out, particularly in recent years as temperatures continue to hit record highs. Unfortunately, this summer won't be much different, according to a new map put out by the National Oceanic Atmospheric Association, which predicts the majority of the US will experience much warmer weather than usual over the next few months.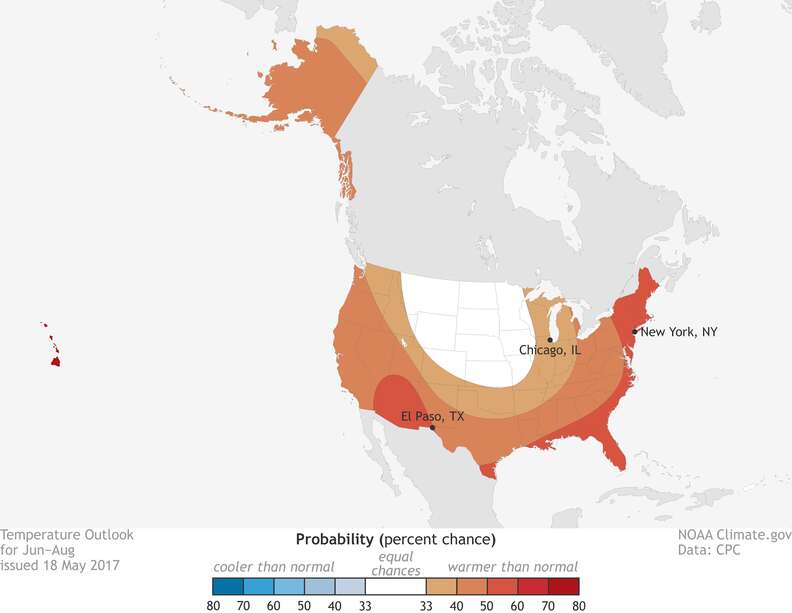 The map was generated using data collected using proprietary software from the NOAA's Climate Prediction Center, with areas highlighted in orange and red indicating increased chances (at least 33%) that temps there will be "well above average" this summer. The deeper the red, the higher the probability. This means that nearly every major US city should expect to be sweatier than usual, with the Eastern Seaboard looking particularly screwed. The white area around the upper midwest and plains states doesn't necessarily suggest that it won't be warmer than usual there, but rather that the chances of it being cooler than usual there are equal to the chances of it being hotter.
The NOAA isn't predicting exactly how much higher temps might be, but if you're curious what the average is during June, July, and August in your area, there's a comprehensive breakdown here.
Considering how alarmingly early spring came this year, it's not out of the question that excessive sweltering heat may be our new norm. A backyard shipping container pool is looking like a wiser investment by the day.
h/tGizmodo
Sign up here for our daily Thrillist email and subscribe here for our YouTube channel to get your fix of the best in food/drink/fun.