This Yogurt Company Will Pay You $2,000 To Travel & Find New Yogurt Flavors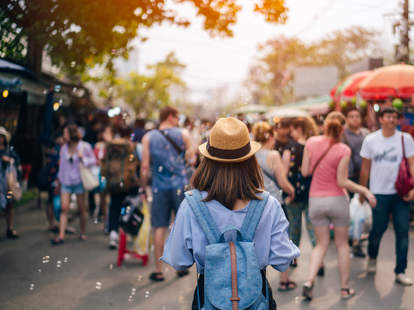 Perishable dairy products and long-haul travel may not immediately seem like a good match, but Noosa Yoghurt is on a mission to change your mind. In fact, the company believes that traveling is the key to creating new versions of its inventive and wildly popular yogurt, and is on the hunt for five people who it will pay thousands of dollars to travel anywhere they want in the world to discover ideas for new Noosa flavors. 
Noosa's Australian-style yogurt has made quite a splash in the dairy aisle in last five years, earning a loyal customer base due in large part not only to its uniquely velvety texture and tang, but the fact that it comes in a whole slew of curiously delicious flavors like orange and ginger, pear and cardamom, raspberry habanero, and pumpkin. Those flavors weren't just dreamed up in a focus group, either, but rather by Noosa's founder herself, who goes on so-called "flavor treks" around the world to find inspiration and new ingredients to try. Now, she's hoping to get some outside help by hiring a crew of five other flavor-finders, each of whom will be given a $2,000 stipend to travel literally anywhere in the world to help the brand find the "most interesting and inspiring" new flavors.
The candidates who make the cut will first be sent on an all-expenses paid "immersion trip" to Noosa's headquarters and farm in Bellvue, Colorado to learn about its yogurt, and receive their travel money. The only stipulation is that winners must post two social posts about Noosa Yoghurt during the summer of 2018. Seems like a pretty small ask in exchange for a totally free trip to Colorado and wherever that $2,000 can get you.
To throw your hat in the ring all you have to do is upload one original photo to Instagram or Twitter showcasing your dream Noosa flavor, a tub of Noosa (optional), and a caption that "describes the flavor inspiration" before the April 20 deadline. Or you can simply upload a photo and caption to Noosa's special contest site. Four of the winners will be judged by a panel of Noosa employees who'll be weighing each entry based on caption, photo originality, and "taste bud appeal, and the final winner will be determined by a public vote. Winners will learn if they've been selected by May 7.
If you're interested, you can read up on the full terms and conditions right here, though frankly your time's probably better spent dreaming up some first-rate flavor ideas. 
h/tDelish
Sign up here for our daily Thrillist email and subscribe here for our YouTube channel to get your fix of the best in food/drink/fun.