This Airline Has Flights the Caribbean for $49 & Europe for $89 Now
Norwegian Air, the budget airline known for its insanely low-cost airfares and power to drive down its competitors' prices on flights to Europe, stuck a new surprise in its Wednesday email subscription this afternoon: a flash sale filled with flights to the Caribbean and Europe for as low as $49 and $89, respectively.
This tracks with the sales and offers other airlines like WOW Air and Southwest have doled out to their customers for August 23, or "Cheap Flights Day." The Norwegian deals are packed with doozies, including routes like New York City to Martinique for just $49, or New York City to the stately and gorgeous Scottish city Edinburgh for as low as $89. Flights to larger cities aren't that much more expensive, either; you could fly to Copenhagen, London, Oslo, or Stockholm from New York City for just $140. For less than $100 and in a matter of hours, you could get from the East Coast to Belfast and Northern Ireland's coast, looking at vistas like this one: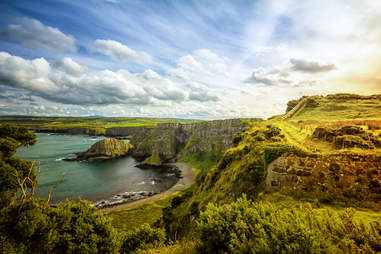 Northern Ireland, near Belfast

| Shutterstock
All of the low flash-sale prices are good for one-way tickets available on Norwegian Air's website, and these are for flights departing air traffic hubs in the United States in November, December, and January -- with a select few also available in September and October. Keep in mind that these are only good for departing flights; the return flights will largely not be part of a sale, but you'd still be saving money here nonetheless.
Also, while the deals are hot, be sure to read the fine print and come prepared for the fact that Norwegian Air is still a budget airline. It makes plenty of money on fees like excess baggage and other odds and ends you might not have to pay for on another airline. Just do your due diligence, as you always should, before dropping any large heaps of money on your trip to finally gaze upon Buckingham Palace.
CNN Money lined up this helpful rundown of the hottest deals available from Norwegian Air, but you better book fast. This sale won't last long.
Sign up here for our daily Thrillist email and subscribe here for our YouTube channel to get your fix of the best in food/drink/fun.